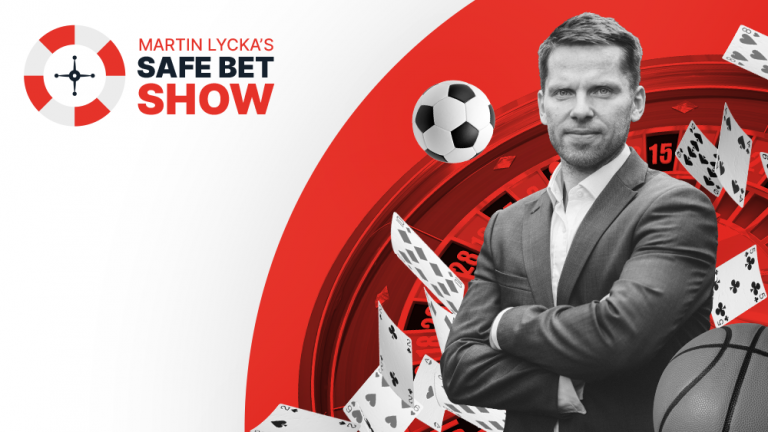 Martin Lycka is the Senior Vice President for American Regulatory Affairs and Responsible Gambling at Entain, and has been at the forefront of responsible gambling projects and technology for over a decade. Now hosting the Safe Bet Show on SBC, Martin discusses the hot-button issues around player protection with a litany of high profile names.
With vast industry experience from his tenures at Entain, GVC and Paddy Power/Betfair, Martin is the perfect host for a player protection podcast, and drills down into tackling the industry-wide issue of problem gaming, by speaking to the leading lights of responsible gambling.
Episode 16
Keith Whyte, Executive Director for the National Council on Problem Gambling joined Martin Lycka in the latest episode of the Safe Bet Show to discuss the evolution of the gambling sector on a global scale, being an advocate for problem gamblers from a neutral stance, the limits on voluntary self-regulation and the modernisation of helplines.
Episode 15
David Rebuck, Director of the New Jersey Division of Gaming Enforcement, joined Martin Lycka for a special live edition of the Safe Bet Show at the Player Protection Symposium in New York City on July 12, 2022. The live show was an opportunity for the audience to learn about the player protection issues Rebuck has encountered during a period of strong growth for the New Jersey gambling industry and to benefit from his insights on how to establish a safe environment for bettors.
Rebuck was appointed Director of NJDGE in 2012 and the State's many achievements since then include the successful implementation of regulatory regimes for sports betting and internet gaming, which have helped to create thriving markets for both in New Jersey.
Episode 14
Episode 14 of Martin Lycka's Safe Bet Show features a hugely notable figure in the responsible gaming world, Paul Buck, CEO & Founder of EPIC Risk Management.
Paul chats about his gambling addiction which led to time in prison, his fandom of the Dallas Cowboys & of course, his beloved Preston North End, and how he views responsible gambling in both the UK & US.
Episode 13
Episode 13 of Martin Lycka's Safe Bet Show features Virginia McDowell, Non-Executive Director at Entain, Board Member at Global Gaming Women and Casino Journal Magazine's Gaming Executive of the Year for 2009.
Virginia and Martin had an enlightening conversation, discussing women in gaming, and more specifically, women in leadership positions in the industry, the Covid-19 pandemic, Entain and the the industry large's response, coming back to work, the US regulatory model, Tennessee, Mental Health, and Responsible Gaming.
Episode 12
The latest episode of Martin Lycka's Safe Bet Show is out, and features Tammi Barlow, Director of Corporate Social Responsibility at Rush Street Interactive.
Martin and Tammi discussed her previous career in the Health and Human Services sector, her opinions on the US healthcare system and what she learned from that part of her life, that she was able to take with her into the gambling industry, and her previous roles at William Hill, Caesars and IGT, as well as her current role at RSI.
Tammi spoke about the current state of responsible gambling in the US, and where they need to go from here, as well as the merits of observing and copying ideas from other markets, including the UK, and the newly regulated Ontario market in Canada.
Finally, the two discussed diversity, both of gender and ethnicity, and whether the progress being made is enough, before Tammi went on to wrap up her key messages in 60 seconds.
Episode 11
The latest episode of Martin Lycka's Safe Bet Show features Dr Bo Bernhard PHD, Vice President of Economic Development at the UNLV and Executive Director, ​International Gaming Institute.
Bo and Martin had a fascinating chat about all aspects of sports, betting, Las Vegas and Bo's life and career history. The two discussed everything from what Nevada has to offer outside of Las Vegas, how the Vegas strip has changed during Bo's life, Mark Twain, NFL's Raiders, Harvard University, Boston, and boxing. Bo and Martin also got into Bo's career history, his ability to build a team, his appearances on NBC and CBS, and his involvement in bringing the Raiders from Oakland to Las Vegas.
Finally, Dr Bernhard rounded up his favourite sportsmen, and summed up his message in the final 60 seconds of the show.
Episode 10
William J. Pascrell, III Esq. (Princeton Public Affairs Group) the leading gambling lobbyist, and New York Giant's biggest fan alive, was the guest on a live edition the 10th episode of Martin Lycka's Safe Bet Show.
In this episode they talk through the political campaigns that inspired Bill to be more involved in government affairs, including his father's career as a congressman, the art of lobbying, fixed odds betting, the history of sports betting in the United States, sports fandom, and much more.
Episode 9
The latest episode of Martin Lycka's Safe Bet Show is a special LIVE edition, filmed at the recent SBC Summit North America conference at the Meadowlands in New Jersey. Jayson is a former NBA All-Star, 2nd Team All Big East at the University of St Johns, and former NBA first-round draft pick.
Williams is a former alcoholic, and has now founded the Rebound Institute, an outdoor venture therapy centre in Florida, specialising in treating addicts. The Rebound Institute helps those with addictions such as drugs, alcoholism and problem gambling.
Jayson gave Martin some of his favourite memories from his college career, shared some stories about NBA legends such as fellow former All-Star Charles Oakley, before finally giving his thoughts on the Rebound Institute and taking some audience questions.
Episode 8
Episide 8 of the Martin Lycka Safe Bet Show was recorded live and in-person at the recent SBC Summit Latinoamérica in Miami, Florida.
Martin's guest for the show is Liv Biesemans, Group Deputy General Counsel at Kindred Group. Liv and Martin had a fascinating chat about life and the industry, including sharing stories of their experiences as Europeans who moved to the US, sports fandom between the US and the UK, and differences and similarities between the US betting market and its European counterparts, as well as an interesting discussion on the mergers & acquisitions trend in the industry.
The two also discuss Kindred's responsible gaming philosophy, how they go about building long-term sustainable relationships with their customers, and why Liv hopes the industry will follow Kindred's lead on transparency and openness.
Episode 7
The latest episode of Martin Lycka's Safe Bet Show features Daniel Umfleet, founder and CEO of Kindbridge, online therapy, coaching and mental health resource. Daniel also served COO of GamBan, and has a litany of experience in a variety of fields.
Martin and Daniel discuss Daniel's background, education and work history, as well as his experiences as an American living in the UK, how he's adjusted to not having Walmart, and his opinions on safer gambling from a public health and public policy perspective.
Episode 6
The latest episode of Martin Lycka's Safe Bet show sees Martin sit down for a conversation with Cam Adair, the founder of Game Quitters, the world's largest support community for video game addiction.
Cam has been published in Psychiatry Research, and has an impressive list of credits including two TEDx talks, NPR, BBC, Forbes, ABC 20/20, CNN, VICE, and Bloomberg, amongst many others.
Cam tells Martin about his history of competitive hockey, and the skills and mindset he's been able to take from that into his career. Adair also touches on the Evander Kane story, and the impact of gaming and mental health issues related to gaming among amateur and professional athletes.
The two also get into Cam's ventures with Game Quitter and Know Your Game (a project on which he's working with Martin), his thoughts on Esports, the future of the Esports revolution, and whether it can rival traditional sports in the future.
Finally, Martin gets Cam's thoughts on gaming disorder being added to the WHO's ICD-11 list, what gaming and gambling companies can do to help with prevention of mental health issues, and the role that parents and loved ones have to play in combating these problems.
Episode 5
The latest episode of Martin Lycka's Safe Bet Show is here, and Martin's guest this time is Shelley White, the CEO of the Responsible Gaming Council, and one of the most influential and important names in the RG field.
Martin and Shelley have a fascinating discussion on numerous topics close to Shelley's heart, including her career history and some of her achievements working with the YMCA, Kidney Association and United Way.
Shelley compares some of her previous roles to her current position in the gambling industry, and discusses whether or not she sees any patterns from those roles to this one. The two also get into key commonalities in tackling problems from Shelley's previous roles to her position at the RGC.
Martin gets Shelley's thoughts on the evolution of willingness to tackle responsible gambling issues in the industry, discusses the impact of the pandemic on gambling, as well as the role technology (specifically machine learning and AI) has to play in the future of responsible gambling.
Shelley also explains the lay of the land in Canada when it comes to gambling, responsible gambling and CSR, as well as the current regulatory status with regards to provinces legalising iGaming, and the single sport wagering bill.
Finally, Martin asks Shelley to lay out what responsible gaming means for her in just 60 seconds, and how her vision ties in to ensuring gambling is the entertainment it was designed to be.
Episode 4
Episode 4 of Martin Lycka's Safe Bet Show features one of Martin's esteemed Entain colleagues, none other than Grainne Hurst! Grainne is Entain's Director of Corporate Affairs, and works closely with Martin on Entain's responsible gaming and player protection arm.
Martin and Grainne discuss life as each other's 'corporate other half' (emphasis on the corporate), bond over name-mispronunciation woes, and even give some thoughts and predictions on England (and the Czech Republic's) chances at Euro 2020!
Of course the two also get into the hot topics of responsible gambling, Entain's 'Changing for the Better' program, and the revolutionary ARC program (Advance Responsibilty & Care), both of which Grainne has played a huge part in.
Grainne gives some insight and information on ARC's personalised responsible gaming system, and how it can change the customer experience using algorithms and behaviour analytics.
Episode 3
Martin's guest for Episode 3 is Judge Cheryl Moss of the State of Nevada District Court and the Gambling Treatment Diversion Court. Judge Moss gives an absolutely fascinating interview with Martin about her career, how she got into law, the accelerated path she took to becoming a judge and how she ended up in Las Vegas.
Judge Moss also gives an impassioned introduction to the Gambling Treatment Diversion Court, of which Judge Moss was the first Judge to preside over, explains to Martin the impact it could have and where it could go in the future (hint – not stopping with New Jersey!).
Episode 2
Episode 2 of Martin Lycka's Safe Bet Show sees Martin in conversation with Brianne Doura-Schawohl, Vice President of US Policy and Strategic Development at EPIC Risk Management.
Brianne is a real pioneer of responsible gaming in the US, and takes Martin through her time on the Massachusetts council for Gaming and Health, and her role in creating the formative responsible gaming policies in the country, as well as her work in tackling compulsive gambling in the military.
Brianne tells Martin all about EPIC and her role, and gets into the differences between the UK and the US, on everything from the approach to responsible gaming, to the accents and definition of a brew!
Martin and Brianne also cover family, and get Brianne's advice on how to juggle a successful career with your family life.
Episode 1
In the inaugural episode of the Safe Bet Show, Martin Lycka sits down with Alan Feldman (Distinguished Fellow, Responsible Gaming at UNLV International Center for Gaming Regulation) to discuss all things safer gambling.
Drawing upon his upbringing and relocation to Las Vegas, Feldman reflected on his parents' concerns surrounding the betting industry and the preconception that casinos were both 'greedy' and 'predatory' entities. However, Feldman disclosed that once he started working within the industry, he noted a disjointedness between the public conversation about problem gambling and the discussions taking place within the casino walls which were more focused upon responsible play.
The discussion also touches upon the importance of peer-reviewed, scientific research in both identifying and treating problem gambling and how responsible gaming is becoming more and more important.
More from SBC
Visit our YouTube channel or click on the YouTube logo below to see more episodes of SBC Podcasts, including great shows such as the SBC Leaders Podcast, Slotbeats' Beyond The Reels and the Double Espresso Podcast. Hit subscribe to ensure you never miss a moment from SBC.

Or for our audio-only versions, simply click one of the button's below, or search 'Martin Lycka' wherever you get your podcasts.