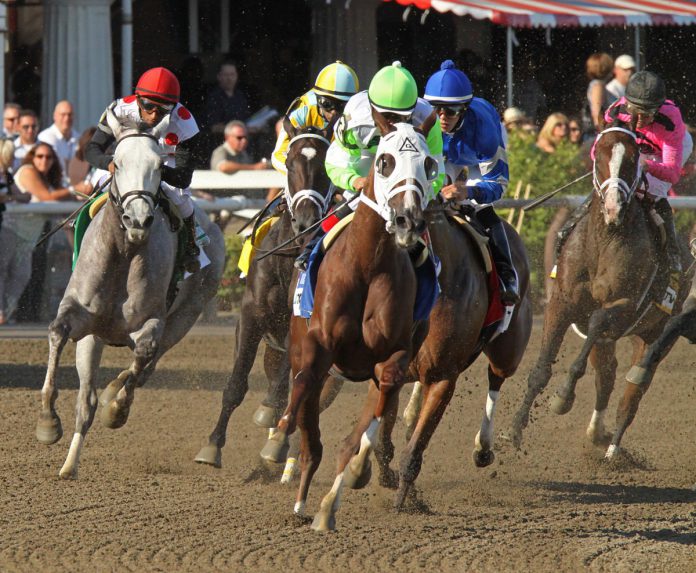 Encore Boston Harbor has united with The New York Racing Association (NYRA) for the 2019 meet at Saratoga Race Course.
As part of the partnership, the group will benefit from access to the second floor of the all-new 1863 Club at Saratoga Race Course.
The 1863 Club is a three-story, climate-controlled building located along the Clubhouse turn featuring differentiated hospitality options and modern amenities. The second floor of the club features a group event space which accommodates up to 100 guests. The floor is designated Legends Hall in tribute to the numerous well-known trainers and jockeys who have made a mark at Saratoga.
NYRA CEO & President Dave O'Rourke commented: "We're excited to partner with Encore Boston Harbor this summer at Saratoga Race Course. The luxury resort and casino is an ideal match for our new hospitality venue," said  "Wynn Resorts has a proven track record of providing the finest hotels, dining and gaming the casino industry has to offer. We look forward to welcoming racing fans to the second floor of the 1863 Club in partnership with Encore Boston Harbor."
In addition to the 1863 Club, Encore Boston Harbor will present two races during the 2019 Saratoga meet: the Saratoga Oaks on Friday, August 2 and the Forego on Saturday, August 24, which is part of a blockbuster Travers Day card.
Encore Boston Harbor will also partner with NYRA to present two handicapping contests during the 2019 summer season: the Saratoga Challenge on August 9 and the Fourstardave Challenge on August 10. The pair of live money challenges will occur as two separate one-day contests. For more information about the handicapping contests, visit NYRA.com/Challenge.
Robert DeSalvio, president of Encore Boston Harbor added on the newly formed partnership: "There is a natural synergy between Encore Boston Harbor and Saratoga Race Course making this alignment a perfect partnership. As a racing fan, I am personally excited to have the opportunity to bring Wynn Resorts' world-renowned hospitality to the brand new 1863 Club and showcase to Saratoga visitors what we are offering in Greater Boston."