Since its official recognition as a sport in 2014 teqball, a creation which combines football and table tennis, has started to grow in popularity year-on-year. In 2017 the sport created its own federations, FITEQ, highlighting its development in competitive events whilst also establishing a corporate body to further enhance teqball.

Gergely Murányi, Head of Diplomatic Relations of FITEQ discussed the origins of the federation, the potential of the sport, and how the firm plans to develop teqball further.
FITEQ: Without secret you have been with teqball from almost day one. When did you first meet co-founders Viktor Huszár and Gábor Borsányi?
Gergely Murányi: I'm lucky to say that I have been with the teqball family since the very first moment, before we even had an office! At the start, it was just a dream and a concept of something that could be great. I met with Gabor at the beginning of 2013, after which he quickly introduced me to Viktor and of course explained the new secret project. I can even remember the very first day when I saw the first Teq table physically, which was 19 April 2013.
FITEQ: What were your impressions and feelings when you realised the potential behind the idea of teqball?
Gergely Murányi: From the first moment that we met, the power that connected us was our collective willingness to create something with long-lasting value. I realised how massive and unique it could be to create a new sport that could give joy to so many people around the world. There may now be generations in the future which will tell you, 'My favourite sport is teqball!' I realised at the beginning, this was not just simply something that we started for fun, it was the formation of the history of sport. Even if nobody will remember our names in the future, there will be a brick in the wall of sports history built by our hands.
FITEQ: You have been one of the most important members of the staff over the years, having been in various positions. How do you evaluate the progress of the sport so far?
Gergely Murányi: In 2014, we moved into the Docler building, which has been our HQ since that day. At the time, only one office was enough for our team of 14 people. Today we don't just have an office in the building, we have a complete floor! A very iconic moment for me was at the last World Championship, in December 2019, when I was sitting alone after the press conference on the first day. I was watching the number of athletes who had travelled to Budapest from every corner of the globe for the sole reason of playing a sport they didn't even know about 6-7 years ago.
FITEQ: Recently, you have become the Head of Diplomatic Relations, can you explain more about your role and the programmes that FITEQ is running?
Gergely Murányi: Sport is one of the best, if not the best, tools of diplomacy. As Nelson Mandela said: "Sport has the power to change the world. It is more powerful than governments in breaking down racial barriers." I am working to build up and strengthen our relations with diplomatic bodies, governments, ministries and organisations like the UN and UNHCR. We have already contributed to international humanitarian projects and have a partnership with Peace and Sport. 
We support their Live Together programme in the Zaatari Refugee Camp in Jordan, and also supported the Friendship Games in Burundi. During the last couple of years, we have organised diplomatic donations and events in Nigeria, Pakistan, Israel, Palestine, Madagascar, Kazakhstan, China and this list is far from complete!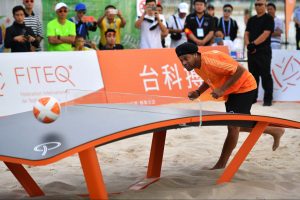 FITEQ: Teqball is a Hungarian invention and during the 2019 World Championships in Budapest, FITEQ signed an agreement with Hungarian Ministry of Foreign Affairs and Trade. The agreement will see 200 teqball tables donated to philanthropic projects and organisations around the world. Can you explain more about this cooperation?
Gergely Murányi: It was a big milestone for us, since it validates our international diplomatic activities and presence. The first time when we sat together with Minister Péter Szijjártó we immediately realised the potential of the message that teqball contains. In the world of diplomacy, a donation of a table can represent not just a nice gesture of a country, but in this case, in the creativity of Hungary and the positive message of sport. To understand this message, you don't need to understand other languages, as a joyful smile means the same in every language!
FITEQ: Can you share some information in regard to future projects in countries where teqball will be introduced through these kinds of strategic partnerships?
Gergely Murányi: As today most of the countries are tormented by COVID-19 and the quarantine measures, it is more challenging to implement our diplomatic projects. Whilst in many cases we don't know where and when we will be able to restart, we are continuing to explore all options and have agreed for our first diplomatic donation event after the quarantine to be in Milan, Italy at the end of June 2020. 
FITEQ: The federation has developed its own corporate social responsibility (CSR) strategy for some years now. Why was it important to FITEQ to start the activities so quickly after the establishment of the federation?
Gergely Murányi: Speaking about charity and philanthropy is one thing, but taking real action based on what you say is the next level. I think I can say now that the world of sport considers FITEQ as a serious International Federation. This was a goal of ours since day one, so we wanted to be serious in every single way possible and CSR was a key part of this. We didn't want to create a sport for the privileged few. We wanted to create an inclusive sport that can be available for anyone, anywhere in the world. The more available the equipment, the more athletes there will be. 
FITEQ: What are the most significant activities so far and how can you ensure these programmes have a long-lasting impact?
Gergely Murányi: Sustainability is one of the most important attributes of every single project, especially the charitable programmes. Zaatari and our contribution to Peace and Sport's Live Together programme is a great example. We did not simply donate Teq tables, take nice pictures and leave the camp. Rather, we organised the projects around the concept of training the trainers. This programme has been running now for more than 18 months and continues thanks to those refugee teqball trainers, Ibrahim and Ahmad, who have shown great dedication in helping the kids living in the camp. It was unbelievable to see how those kids developed when we returned after a year! 
FITEQ: What message do you intend to send to the teq'ers and everyone involved in the teqball movement during these hard times of COVID-19 pandemic?
Gergely Murányi: As long as we are in our comfort zone it's easy to forget what it's like to live in challenging times. When we are living in a country with running water, electricity and medical care it's easy to forget to think about those who experienced the loss of these things or never even have any of them. Now let's say we lost our freedom for a short time, so we had the chance to think about how to continue or restart in a better way than we have done before.