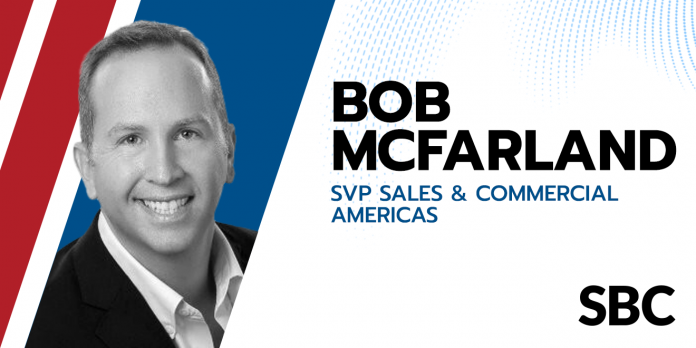 SBC has made a major investment into both the North American and Latin American sports betting and gaming markets with the recruitment of Bob McFarland for the role of Senior Vice President Sales & Commercial – Americas. 
McFarland brings to SBC over 20 years of international events sales experience and most recently was Event Vice President and Sales Director at leading global event company Reed Exhibitions.
SBC's Americas portfolio includes the ground-breaking trade exhibition and conference SBC Summit North America (incorporating Betting on Sports America & US iGaming Conference), consumer sport betting show BETFEST (in conjunction with SeventySix Capital Sports Advisory), new LatAm trade conference SBC Summit Latinoamérica, Vegas Baby industry networking event and party, and the digital conferences SBC Digital North America and SBC Digital Latinoamérica.
These events are backed up by rolling b2b news coverage for the US sports betting and gaming markets on SBCAmercias.com, the dedicated Latin America Spanish language news portal SBCNoticias.com, sports business and B2C news site InsiderSport.com and multimedia industry news site GamblingTV.com.
SBC Founder and CEO Rasmus Sojmark commented: "We are delighted to welcome someone of Bob's caliber to the SBC family. The company has been building up its portfolio in North America and Latin America over the last few years, which gives Bob a great foundation to drive the SBC brand forward in these rapidly expanding markets."
Sue Schneider, VP Growth & Strategy Americas at SBC, added: "It's a great coup to get someone of Bob's experience on board to oversee the sales of our growing Americas portfolio. His knowledge of both B2B and B2C events will be a big boost to SBC's ambitions in the region." 
McFarland said that he was looking forward to making an impact: "SBC has a great reputation for high-quality sports betting and gaming events and media so I am delighted to be joining as SVP Sales & Commercial – Americas. There are so many great opportunities for the industry in the US, Canada and Latin America and SBC's ambition is to give companies the tools they need to make the most of that potential."