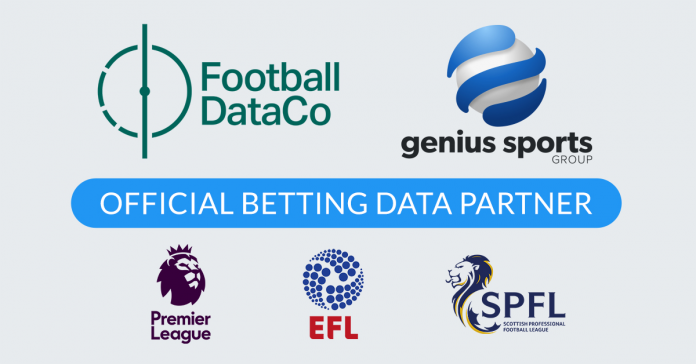 Genius Sports Group has unveiled a new agreement with the Football DataCo, that will see the firm become its official supplier of live data to the global sports betting sector.
As part of the new partnership, the data rights holder of all competitions organised by the Premier League, English Football League and Scottish Professional Football League, will utilise Betgenius' sports division, Genius Sports Group capturing official live game data in-stadia at over 4,000 fixtures a season, and distribute it to hundreds of licenced sportsbook operators around the world in under a second.
Commencing at the start of the 2019/20 season, the multi-year partnership will create the sports betting sector's fastest, most accurate and reliable data feed for in-play betting products and live betting innovations, in order to drive long term value for sports betting operators around the world.
Adrian Ford, General Manager of Football DataCo commented: "English and Scottish football is vital to any sportsbook offering and Genius Sports provided a compelling proposal to maximise the value of live data in the betting market for the Leagues. We look forward to working with Genius Sports, and its sports betting division Betgenius, in developing innovative data feeds for the market to use."
Mark Locke, Genius Sports Group CEO, added: "Being selected by Football DataCo as their exclusive official data partner is transformational for our organisation and reinforces our position as the global leader in sports data capture and distribution technology. This partnership upholds our commitment to ensuring sports remain at the heart of a sustainable sports betting ecosystem that is fair and rewarding for all participants.
"The use of secure, UK football league sanctioned data signals the increased maturity of the industry and recognises the value and protections that this official data feed provides. Football DataCo leads the world through its heavy investment in a product that assures operators can have complete confidence in its data supply to power some of the most valuable sports betting content in the world, including all Premier League matches."