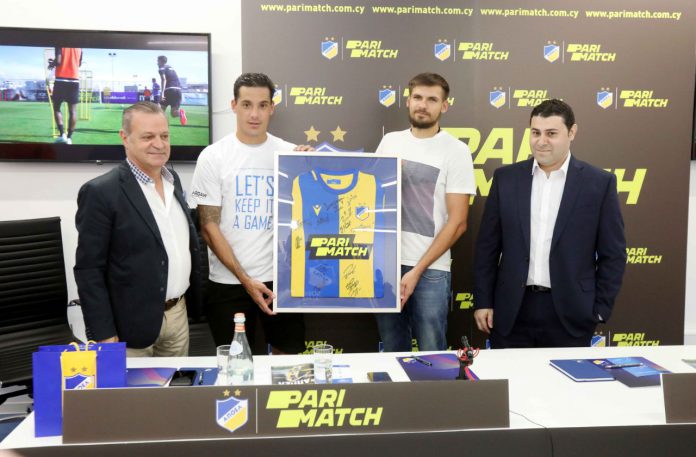 International betting site, Parimatch has extended its sponsorship deal with Cyprus' most successful football team, APOEL FC for the fourth consecutive season. 
As part of the renewed sponsorship deal, the Parimatch logo will be displayed on APOEL FC's players' sports kit for another year, and the partners will continue to work together on charitable and community-led initiatives. 
Sergey Portnov, CEO of Parimatch Holding said: "For yet another year Parimatch is happy to join forces with the winning team APOEL. For the 7th consecutive season APOEL was crowned champion of the Cypriot First Division. We are very proud that Parimatch is part of this legendary team's success and we want our partnership to push beyond our usual sponsorship plans, as strive for victory at every level.
"In addition to our successful cooperation with APOEL, I would like to reiterate Parimatch's commitment to the Cypriot market. Although the market is small in size, we believe it is very promising, so we will take all the necessary steps to make Parimatch the leading betting company in Cyprus. My presence here today, as well as the establishment of Parimatch's headquarters in Limassol, demonstrate the importance of Cyprus for Parimatch.
"We are equally committed to supporting Responsible Gaming Week, organized by our regulator, the National Betting Authority. We encourage gamers to play responsibly and focus on the entertainment factor, rather than the easy money."
The successful partnership between Parimatch and APOEL is not just limited to sports, but is underpinned by a commitment to charitable initiatives which benefit the local Cyprus community. Last year Parimatch and APOEL co-operated on support for several charities, with various activities which positively contributed to Cypriot society. Parimatch and APOEL will continue to support the local community and are committed to social responsibility as a key part of their collaboration.
A spokesperson for APOEL added on the deal: "We are very excited to embark on yet another successful year of what we hope is a long and fruitful partnership with Parimatch. Each year we embark on even more ambitious projects together. The new powerful Parimatch logo, with its electric yellow colour, is proudly displayed on the APOEL jersey as well as on the modern training center, which was named 'Parimatch-Archangelos' last year." 
It has been a landmark year for Parimatch, with the firm  partnership with mixed martial arts athlete Conor McGregor and boxing king Mike Tyson. The two Martial Arts Legends and the APOEL blue Legend represent the Parimatch fighting spirit and form the perfect team of winners. 
During an interview, with SBC at last month's Betting on Sports Conference the Parimatch CEO underlined the importance of ambassadors as the company continues to boost its global presence.