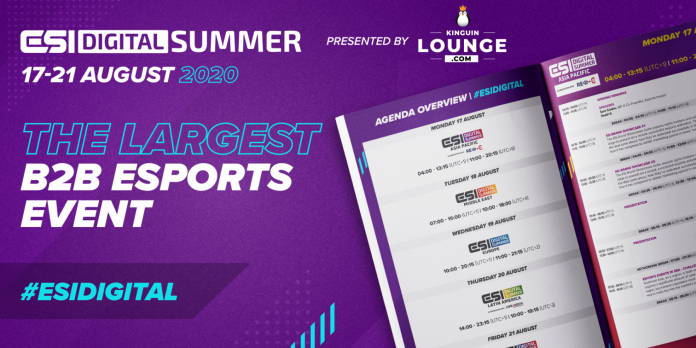 ESI, the leading B2B esports events company has revealed the agenda and its first wave of speakers for ESI Digital Summer presented by Kinguin Lounge, a week long series of panels, keynotes and networking spanning a different region each day from August 17 – 21.
The world class agenda will see 100 speakers debating, and providing insight into, the biggest topics facing the new industry including esports' relationship with traditional sports, the sectors rise in viewership and its business practices. ESI Digital Summer will be the biggest global B2B esports event to date covering North America, Europe, Latin America, APAC and the Middle East respectively, shining a spotlight on the business of esports in both established and emerging regions.
Some of the industry's biggest firms have already been announced for the event following its first wave speakers. These include experts representing the likes of Riot Games, FlyQuest, RNG Esports and Orange to name a few.
ESI Digital Summer will also see the return of The Clutch, in its third iteration, the Dragons Den style competition gives four esports startups the chance to pitch to a panel of leading esports investors.
Sam Cooke, MD and Co-Founder for Esports Insider stated: "With the events landscape turning to the digital world, Esports Insider prides itself on adapting its offering to fit the needs of the industry with an agenda and collection of speakers that provides the deepest dive into the business of esports. Whether you want to explore revenue streams, betting, sponsorship or broadcast rights – ESI Digital Summer has got you covered with a wide and expert range of content.
"ESI Digital Summer is shaping up to be a truly global and unique event and we are excited to have the likes of Betway and GRID locked in to provide insights into esports betting as it continues to see its rapid emergence in light of the pandemic."
ESI Digital Summer focuses on five key themes, Brands and Sponsorship, Investment, Betting, Sports Crossovers and THINK sessions, honing in on different regions each day. The eclectic, global agenda spans ESI Brand Showcases shining the spotlight on prominent mainstream partnerships, through to esports broadcast rights in the Middle East and esports betting in the USA. Sessions include:
APAC (August 17th):
Esports Events in SEA – Challenges & Opportunity
Rise of Esports Viewership in Asia-Pacific
The Ambitions and Challenges Of Western Esports Teams in South Asia

Confirmed speakers: Bo Shen, VP of International Expansion and Innovation, RNG Esports

Riot Games APAC Update – Wild Rift & Valorant competitive push into APAC

Confirmed speakers: Chris Tran, Head of Esports, Riot Games SEA, Sean Zhang, CEO, Talon Esports, Terence Ting, CEO, Team Flash, Jayf Soh, CEO, Resurgence

Synergies Between Sports & Esports In Asia-Pacific

Confirmed speakers: David Harris, Managing Director, Guinevere Capital
MIDDLE EAST (August 18th):
Esports Broadcast Rights in the Middle East

Confirmed speakers: Edward Kondrat, Esports Executive, Empire Entertainment

Esports Events in the Middle East – Challenges & Opportunity
The Clutch Digital

Confirmed speakers: Matthieu Dallon, Trust Esport VC Fund, Spike Laurie, Venture Director, Hiro Capital

ESI Brand Showcase – FATE Esports & Orange
EUROPE (August 19th)
Getting Schooled – The Evolving Relationship Between Esports And Education
Going Bespoke or Keeping it Simple: How do Brands Make an Impact in Esports?
The Academy Model – Finding and Moulding the Next Generation of Pro Players
LATIN AMERICA (August 20th)
LATAM: La Nueva Mina De Oro De Los Esports? Latam: The New Esports Goldmine?
Will Mobile Esports Be The Winner in Latin America?

Confirmed speakers: Fernando Mazza, Head of Operations, Garena (Free Fire)

CS:GO Mania In Brazil: How, Why and What's Next?

Confirmed speakers: Leo De Blaise, CEO, BBL

Broadcast & Media Rights in LATAM

Confirmed speakers: Luis Carrillo Pinto, Managing Director,  Live Media Esports Entertainment, Pablo Monti – Esports Manager – Latam Media Group
NORTH AMERICA (August 21st)
Esports 3.0 – The Emergence of Esports Facilities Worldwide

Confirmed Speakers: Viktor Wanli, CEO, Kinguin, Tomaso Portunato, CEO, Platform

Commercialisation of Merchandising In Esports

Confirmed speakers: Patrick Mahoney, CEO, We Are Nations

Esports Betting in the USA

Confirmed speakers: Moritz Maurer, CEO & Founder, GRID

Making a difference – how can esports and gaming positively impact wider society?

Confirmed speakers: Annie Pei, Producer, CNBC, Tricia Sugita, CEO, FlyQuest, Christie St. Martin, CEO, Gamers.vote
ESI Digital Summer is the second digital event by ESI. ESI Digital Summit took place across two days in May and saw over 500 attendees, 50+ speakers and more than 650 networking meetings taking place on the platform itself, with in excess of 7,500 communications exchanged. Speakers included major brands, Nestle, Kia, adidas and Formula 1 through to world renowned teams, FaZe Clan, Team Vitality and Astralis and leading esports organisations in ESL and Riot Games.
ESI Digital Summer will more than double in size, offering over 100 speakers, 1,200 attendees and more than 35 hours of live content across five days. Attendees will be able to chat directly and book meetings with one another throughout the week, and there'll be AI based matchmaking which should ensure the networking element is levelled up.
The event, which has confirmed Kinguin Lounge as Presenting Partner, and also sees GRID and We Are Nations return as Gold and Silver partners respectively, will be truly global offering insights into markets from around the world with the support of regional partners.
ESI Digital APAC, taking place on day one on August 17th, will be held in association with Redd+E, an esports-focused subsidiary of Singapore-based marketing agency Reddentes Sports. ESI Digital LATAM meanwhile will be held in association with Live Media Esports Entertainment, one of the fastest growing gaming companies in LATAM looking to evolve the digital entertainment landscape within the region.
Tickets start at only £100 (+VAT) for a five day Full Access pass, with discounts available for Group passes (3+) and Early Bird passes are on offer until the end of July. Attendees will get first and full access to VODs of all sessions post-event too. Follow Esports Insider on Twitter for the latest updates, and sign up to the ESI Dispatch Newsletter here.