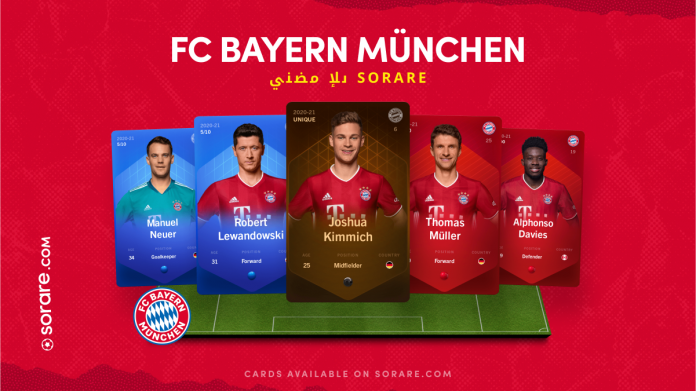 FC Bayern Munich has joined with fantasy football platform Sorare, which will allow gamers to buy and sell digital limited-edition football cards.
Sorare collectors will be able to trade cards from Bayern players and build teams, earning rewards based on the likes of Manuel Neuer and Robert Lewandowski's real life performances.
"Today's news is an important step for Sorare. With FC Bayern Munich, Sorare can now refer to the support of three of the five best European champions with Juventus Turin and Paris Saint-Germain," commented Nicolas Julia, CEO at Sorare. "The game is still getting really global and relevant to soccer fans all over the world."
The reigning Bundesliga champions are the third German top flight club to partner with Sorare, a video game which is based off of the Ethereum blockchain. It already has partnered with 102 officially licensed clubs, including Juventus, Paris Saint-Germain and Atletico Madrid.
Former German international and retired professional footballer Andre Schurrle is now an investor at the company.
He added: "As a former football professional and first supporter of Sorare, the inclusion of Bayern Munich in the platform, the German champions, is particularly popular. I am delighted that Bayern have signed Sorare's vision for a game. World Fantasy Football."