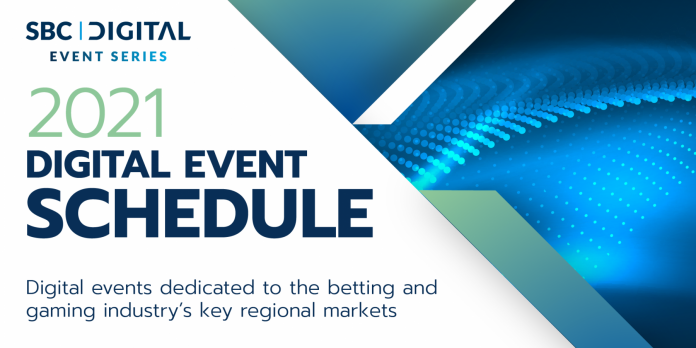 SBC has announced the launch of SBC Digital, a series of online conferences and product showcases dedicated to several of the betting and gaming industry's most attractive regional markets. 
The series is the crucial third pillar of SBC's services, sitting alongside the physical conferences and trade shows organised by SBC Events and the online news and print offerings of SBC Media. Together they provide a powerful platform to share industry knowledge and connect operators, suppliers and affiliates from key markets around the world.
SBC Digital's 2021 events programme builds on the company's successful 2020 online events series, which proved to be a hugely-effective way to keep the industry's communication channels open throughout this most disrupted of years. In total, more than 30,000 delegates from operators, affiliates, regulators, suppliers, and the media used SBC's 2020 digital events to learn, connect, and talk business.  
The new online events all feature high-level conference programmes with senior executives sharing invaluable insights into the nature of the opportunities available and how to take advantage of them, along with ideas for how to tackle that region's greatest regulatory and technological challenges. 
Each event will feature an interactive product display area that offers selected companies a highly-effective way to showcase their latest innovations tailored to local markets, as well as a series of networking roundtables, a format that is proven to bring together people with shared business interests. 
In addition to the conferences and exhibitions, SBC Digital will stage the quarterly CasinoBeats Slots Festival. This product showcase enables games developers to display their latest titles in a playable format, allowing an audience of hundreds of online casino operators and leading affiliates from around the world to try them. 
The SBC Digital 2021 events series:
Rasmus Sojmark, SBC's CEO and Founder, said: "The SBC Digital events series represents a great way for operators, affiliates and suppliers to share information about the best opportunities in specific regional markets, without having to commit to the time and expense of travel. 
"Each of the events will be a forum for senior executives with on-the-ground experience of local markets to exchange valuable insights and ideas with representatives of international operators. They will also provide a route for suppliers to build their presence in the region, and a simple way for stakeholders from across the betting and gaming industry to make new connections and talk business."
For full details of sponsorship and exhibition opportunities at SBC Digital's 2021 events, please contact [email protected].