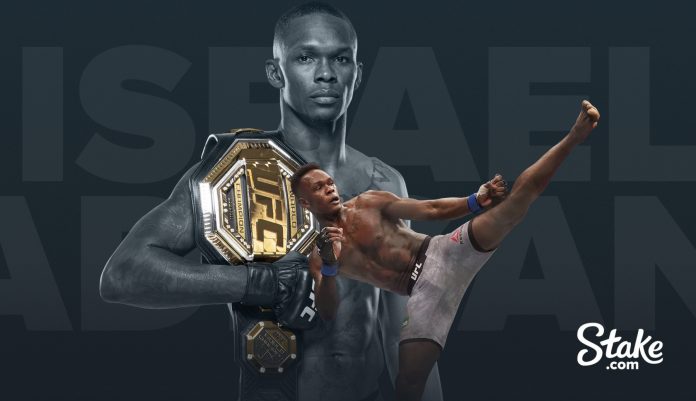 UFC middleweight champion Israel Adesanya is set to become the new Brand Ambassador of crypto-betting site Stake.com.
Following the multi-year deal, Adesanya will become the first ever mixed martial artist to form a sponsorship alliance with a crypto-betting firm.
Under the terms of the agreement, Stake.com's community will gain access to special activations, including VIP fight experiences, promotions and exclusive appearances featuring the undefeated middleweight king. .
"Stake is the world's leading crypto betting platform and I'm very pleased to be sponsored by them," Adesanya remarked:
"They've risen to the top of their field very quickly and the partnership presents the perfect opportunity to align with a brand whose ethos and ambitions so closely reflect mine. 
"The collaboration will see us create many unique opportunities for Stake.com users and I can't wait to meet and interact with their community throughout the partnership."
Following his debut in 2018, Nigerian-born, New Zealand-based Adensenya progressed swiftly through the UFC's middleweight rankings, holding a record of 20 wins, with 15 by knockout and five by decision.
He claimed the middleweight title in October 2019 with a second round knockout win against Robert Whittaker, and has since defended his belt twice.
Stake.com is hopeful that the new collaboration with the middleweight star will strengthen its position in the MMA betting market.
The firm intends to emphasise and develop its UFC betting product, increasing the number of markets offered and maximising odds, as part of a wider expansion strategy which will also see the introduction of new coins, games, payment methods, coins and enhanced betting on American sports.
Since its launch in 2017, the company has become a key player in the crypto-currnecy betting sector, having processed over 30 billion bets.