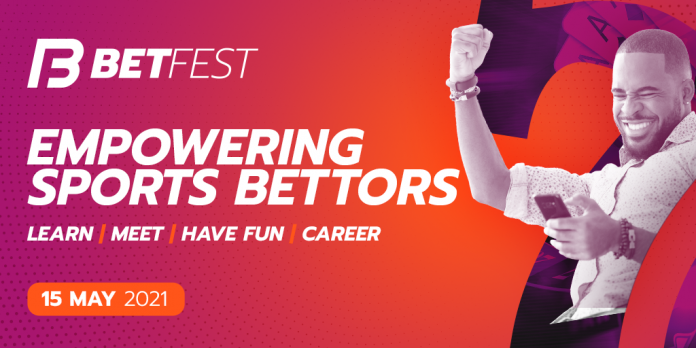 The first edition of BETFEST is set to offer brands in the U.S. sports betting sector a valuable new way to reach and engage with both seasoned bettors and fans ready for their first experience of this exciting new industry.
Organized by Sports Betting Community (SBC) in partnership with SeventySix Capital Sports Advisory, the online event on Saturday, May 15, 2021 will combine entertainment, a dash of celebrity sparkle, education and networking to show sports fans what legal sports betting is all about and how to enhance their enjoyment of it.
Attendees will have the chance to engage with sports celebrities, learn new strategies from professional bettors, and discuss forthcoming big games with fellow fans in the U.S. betting community. They will also be able to take a behind-the-scenes look at how the industry works and explore career opportunities in this fast-growing sector.
A crucial part of the BETFEST experience will see fans checking out betting, media and associated sports brands, which provides those companies with a simple way to engage with their target audience immediately before what promises to be a busy season for sports in the United States. 
BETFEST partners will have a range of ways to connect with diehard sports fans from across the country at the event. From participating in the sports betting education program to staging a virtual meet-and-greet with a high-profile brand ambassador or even something as simple as offering a free bet, beer or pizza to fans for their team's next game. 
One further key feature of the event is the sports betting job fair, which will provide partners' HR and recruitment teams with a simple way to meet people eager to pursue a career in the industry. 
Sue Schneider, VP Growth & Strategy Americas, SBC said: "BETFEST is a brand new event that will bring together a community of sports fans and bettors for a day of entertainment and education, which will leave them better informed about sports betting, safe gambling, the industry, and the best betting brands in their states. 
"For companies with sports at the core of their product or message, the event represents an unrivalled opportunity to reach their target audience in a relaxed environment. BETFEST provides a direct connection to sports fans and bettors during the build up to one of the biggest betting periods on the calendar, making it an ideal and highly cost-effective way for brands to engage with prospective new customers." 
Evan Davis, Managing Director, SeventySix Capital Sports Advisory said: "Since launching last year, SeventySix Capital Sports Advisory has been at the forefront of developments within the sports betting ecosystem. As such, we're excited to partner with SBC in bringing BETFEST to sports betting enthusiasts across the country. Whether you're a sharp bettor or someone learning the difference between a moneyline and point spread wager, BETFEST will unquestionably be a rewarding and fun experience."
To learn more about attending BETFEST, visit http://www.betfestlive.com.  To find out more about partnership and sponsorship opportunities at BETFEST, contact [email protected].