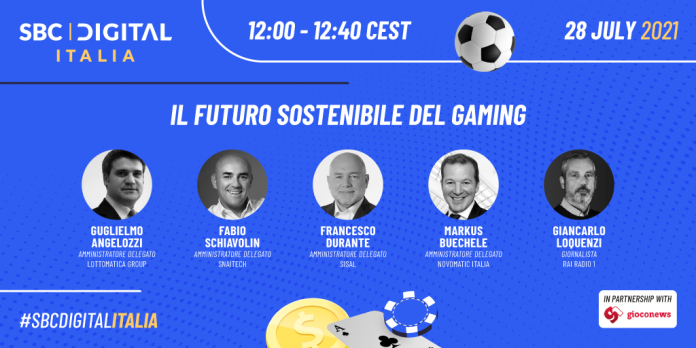 The CEO panel at this month's SBC Digital Italia conference and exhibition is set to see leaders from Lottomatica, SNAITECH, Sisal and Novomatic Italia share their ideas for the future of the betting and gaming industry.
The online event on 28-29 July 2021 features a comprehensive agenda that addresses the major issues faced by both the online and retail sectors, with expert speakers contributing insights from the perspectives of operators, suppliers, the regulator, professional sports, government and law enforcement.
One of the highlights of the agenda comes on the first day, with 'The Sustainable Future of Gaming' session, which will examine the impact the industry has on the economy and society.
The panelists will consider how the benefits the sector brings in terms of employment and tax revenue can be balanced with concerns about player protection, with the aim of creating a sustainable model that works for stakeholders across the industry and is acceptable to the Italian public and government.
CEOs from four of the biggest companies in the Italian market will detail how this can be achieved, with Guglielmo Angelozzi (Lottomatica), Fabio Schiavolin (SNAITECH), Francesco Durante (Sisal) and Markus Buechele (Novomatic Italia) all on the panel. They will be joined by moderator Giancarlo Loquenzi, a journalist with RAI Radio 1.
Rasmus Sojmark, Founder and CEO of SBC, said: "We're delighted to be joined by four of the most influential figures in the Italian industry, all ready to share their thoughts on the future direction of the sector.
"This CEO panel is a must-watch for anyone with an interest in the betting and gaming industry in Italy, as it will be packed with valuable insights, ideas and information about the market."
The SBC Digital Italia conference agenda, which has been compiled in conjunction with SBC's local partner Gioco News, also features sessions on the challenge of reshaping the retail gambling sector, how to build on the growth the online market has enjoyed over the last 12 months, the role of the regulator, igaming marketing strategies, and the battle against match-fixing.
The 60-strong speaker line-up includes Marcello Minenna (Direttore Generale, Agenzia Dogane e Monopoli), Domenico Galizia (CEO, Betflag), Marco Castaldo (CEO, Microgame), Roberto Ribaudo (Director, Interpol Italia Division), Carla Ramella (Director of Customs and Monopoly – Central Public Administration, Sogei), Claudio Durigon (Undersecretary, Ministry of Economy & Finance), Stefano Delfini (Criminal Analysis Service Director, Criminal Police Central Directorate, Ministry of Interior), Claudio Marinelli (Project Manager, Criminal Intelligence Officer, Interpol), Luca Turchi (Director of Gaming Control, Office of Games Management, ADM) and Ugo Taucer (Attorney General, Italian National Olympic Committee).
In addition to the conference, SBC Digital Italia will feature a virtual exhibition with 20 leading suppliers showcasing their latest innovations tailored for the Italian market, and a selection of networking opportunities.
Register for your free online pass for SBC Digital Italia at the event's website: https://sbcevents.com/sbc-digital-italia/register/