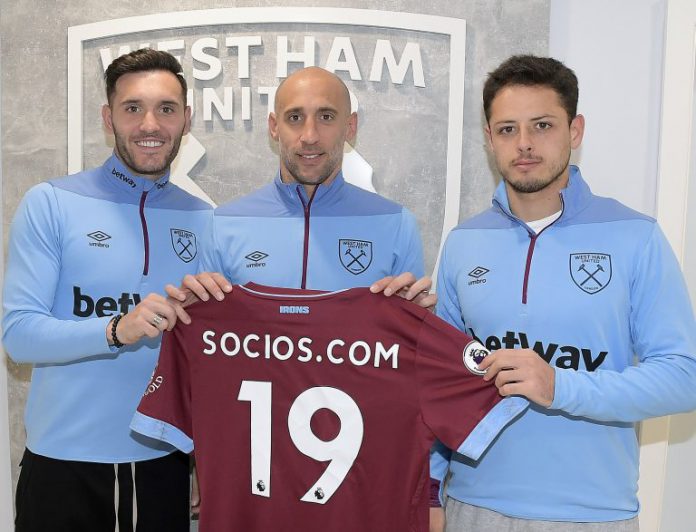 West Ham United have signed a strategic partnership with blockchain-based fan engagement platform, Socios.com.
The Irons become the first Premier League club to partner with Socios.com, joining the likes of European giants Paris Saint-Germain and Juventus.
Paris, Turin, London…

⚒Welcome, @WestHamUtd#bemorethanafan #HammerTime pic.twitter.com/2K6s5UhdPp

— Socios.com (@socios) April 30, 2019
Socios.com is a mobile app for football fans, where fans acquire the ability to vote – by buying, earning or hunting for fan tokens – on selected club decisions, earn club rewards and compete for exclusive experiences.
Karim Virani, Digital & Commercial Director of West Ham United said: "Our fans are what make West Ham United a unique and special club and we're excited to partner with Socios.com to give fans a new way to engage with the club.
"We recognise that many fans are now digital users first, with many looking at and using new technologies in their day to day lives.
"As a result, West Ham United's presence on Socios.com's state of the art platform will further give us the ability to interact and get direct feedback in real-time from our global fanbase which will be important to our future fan engagement strategy.
Socios.com will launch the official fan token of West Ham United in an effort to improve club-fan relationship.
West Ham will seek the input and opinion of fans by running exclusive polls on the mobile app with the tokens offering the opportunity to vote and share their voice.
Alexandre Dreyfus, CEO & Founder of Socios.com added, "We're building a strong eco-system of top-tier clubs from the best and most exciting leagues across the world and are very excited to have West Ham United as the first Premier League club to drive the evolution of football fan engagement."
Fan tokens will also give fans access to rewards, exclusive merchandise, games, leaderboards and exceptional experiences too.
Dreyfus continued: "Having a club like West Ham United adopt fan voting is a big step in realising our goal of building the world's biggest global football community and marketplace for football fans, alongside demonstrating that blockchain and cryptocurrency is the trusted technology of the mainstream.
"We will be announcing more European partners very soon, with more Premier League clubs set to follow West Ham's lead in creating the best-in-class fan engagement."
The West Ham fan token will be available to fans at the start of the 2019/2020 season, fans can purchase these directly through their mobile phone via the Socios.com app.
Value of the fan token will also go and up or down based on market demand.
Emma Diskin, Chief Marketing & Communications Officer for Socios.com said: "West Ham United is a forward-thinking club that can maximise the potential of what fan voting and Fan Tokens can offer both fans and clubs by building better engagement for football fans.
"I am delighted that West Ham United has chosen to partner with Socios.com, and we look forward to showcasing the innovations that our sports engagement platform and technology can offer the club, its fans and the rest of the Premier League."