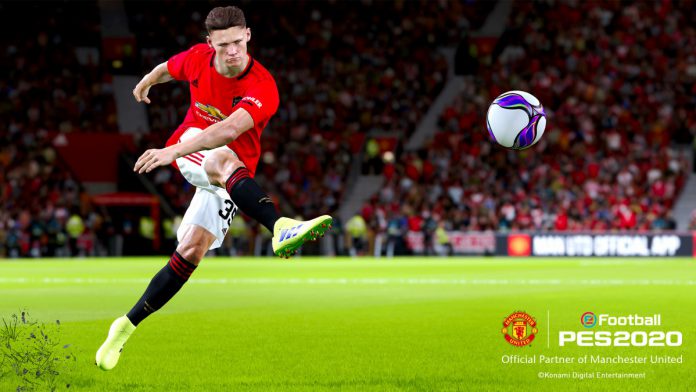 Premier League giants Manchester United will feature as one of the officially licensed clubs in Konami's upcoming 'eFootball PES 2020' game.
The 'eFootball' addition to the name is a rebrand of the excellent Pro Evolution Soccer (PES) series which many hardcore gamers have been playing since its days as 'International Superstar Soccer' in the 1990s.
Konami, the developers of the PES games, have pulled off a real coup with this collaborative deal with Manchester United. Although United's on-pitch performances have taken a dive in recent years, the club is still one of the most commercially lucrative in the world.
The deal with Manchester United is likely to give Konami and their PES series some much-needed added exposure to younger football fans as they continue to battle with EA Sports' FIFA series for the title of the greatest football game, year in year out.
eFootball PES 2020 will now feature a perfectly-modelled recreation of Manchester United's Old Trafford stadium while the club's players will be represented impeccably after 3D full-body scans were used to render their on-field characters.
Jonas Lygaard, senior director of brand and business development at Konami Digital Entertainment, said: "Konami is incredibly proud to be working with the biggest football clubs in the world. We are excited to bring Manchester United into the eFootball PES series – renowned for its realism and control."
Manchester United, Arsenal and Barcelona have now been signed up as official partners for eFootball PES 2020.
Also, United's 22-year-old Scottish midfielder, Scott McTominay, has been announced as an official ambassador for eFootball PES 2020 while former star David Beckham will be available to play as a United legend in-game.
Speaking at the United/Konami launch event, McTominay said: "It's a real honour for me, and I'm really excited to get the partnership underway. I've been playing the game a lot and the graphics look absolutely amazing."
eFootball PES 2020 is released in the UK and Ireland on September 10th. The game will be available on PS4, XBox One and PC Steam.