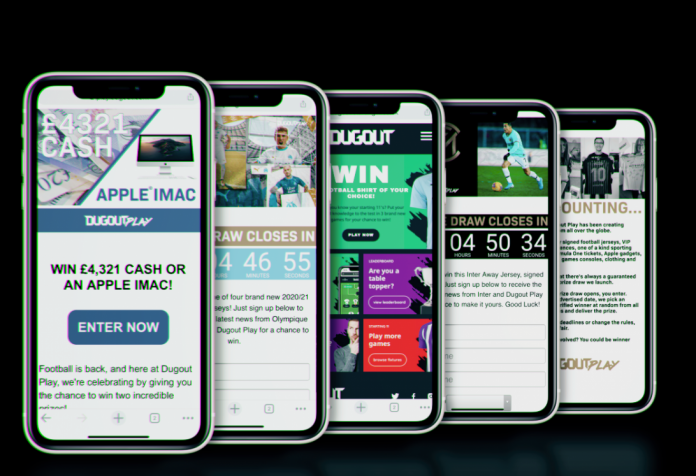 Football media company Dugout has further expanded fan engagement opportunities by launching a range of competitions branded under its new initiative Dugout Play.

New free to play and pay to play competitions will be added to its platforms alongside Dugout's interactive games, which will all form under the new initiative. The aim of Dugout Play is to boost its engagement opportunities, continuing to develop its platform's content output and also delivering new revenue streams.
Jay Espindola, Dugout Head of Digital Competitions, stated: "I'm delighted to launch Dugout Play today and look forward to building on the strong foundations we have built since establishing Dugout competitions in 2019. We have had a great response and adoption from our partner clubs and high entry levels from our global football fan base.  
"In the coming months we will continue to bring both monetary and amazing experiences, and this is another step for our business in providing fans globally some of the best prizes in football."
The competitions will range in terms of style and delivery with fans having the opportunity to win prizes such as exclusive signed shirts, experiences and memorabilia. Research by Dugout highlighted that 80 per cent of all competition entrants enter to win prizes from clubs other than the one they support. 
Through competition initiatives, different sides could expand its reach beyond the club's existing supporter base. Engagement methods facilitated by Dugout Play will enable clubs to increase international awareness and reach a wider fanbase.
Sebastian Gray, Dugout Co-Founder and Senior Vice President, added: "Dugout is a unique media company where we are able to bring together key industry partners from clubs, publishers and brands to provide the best fan experience. Dugout is always exploring initiatives to deliver the best experience to fans and with Dugout Play we will bring some of the best prizes to our football fans all over the world with incredible 'Free to play' and 'Pay to Play' competitions."
Dugout's founding member clubs, including Barcelona, Chelsea, Juventus, Liverpool, Manchester City, Paris Saint-Germain and Real Madrid any more, have already launched competitions through Dugout Play. Moreover, a host of Dugout's member clubs will be launching further premium competition platforms in the coming months.