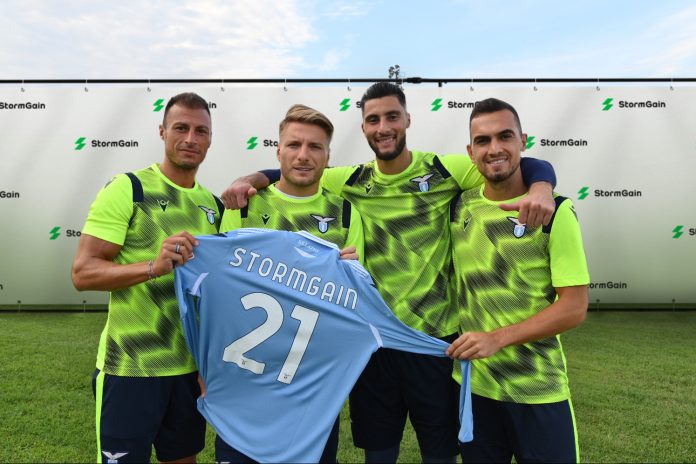 Ahead of its 2020/21 Serie A and UEFA Champions League campaign, SS Lazio has struck a long-term partnership with cryptocurrency trading platform StormGain.

The partnership is expected to align the two entities in 'combining tradition with innovation to achieve success'. This includes StormGain initiating a range of fan engagement opportunities such as giveaways, VIP suite hospitality at Lazio home matches, tickets to fixtures, plus access to private tours and events at the Stadio Olimpico.

Marco Canigiani, Marketing, Sponsorship and Event Director SS Lazio, stated: "We are very proud of this partnership that will reinforce our innovative positioning. The partnership will help us widening our international landscape and create at the forefront projects for our fans." 
Meanwhile, Alex Althausen, CEO, StormGain, added: "StormGain is happy to partner with SS Lazio, a team with a rich history and values which echo our own perfectly. Through this sponsorship, we're thrilled to join the worlds of crypto trading and football together and offer many exciting benefits for our clients, who can win exclusive access to the Roman superstars and unique prizes thanks to StormGain. 
"We look forward to the start of a new season, which, no doubts, will be exciting and yet different from any other!"
This isn't StormGain's first foray into football sponsorship with the cryptocurrency trader securing a deal with Newcastle United to become the club's sleeve sponsor for the 2019/20 campaign. 
The season see's Lazio's brand be featured by a bigger global audience given the club's inclusion in the Champions League following its fourth placed finish last year. This will be the Italian club's first UEFA Champions League campaign since the 2015/16 season.