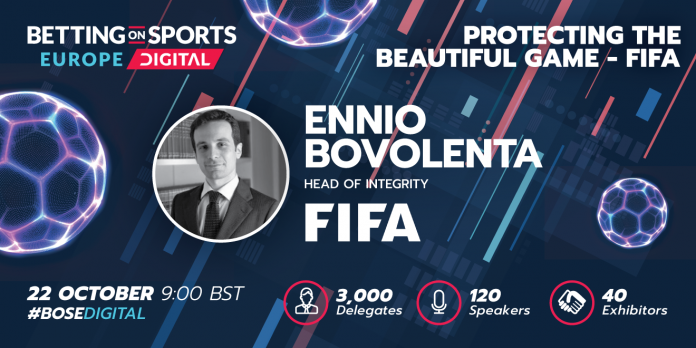 FIFA's Head of Integrity Ennio Bovolenta will deliver the keynote for the Sports Integrity track at this month's Betting on Sports Europe – Digital conference and exhibition.
The virtual event on 21 – 22 October will bring together senior executives from the European sports betting industry to share knowledge and ideas about the key issues influencing the future of the sector.
Bovolenta will take part in the 'Protecting the Beautiful Game' session, which will open proceedings on the second day and see him outline the role FIFA plays in policing football and protecting it from outside influences.
He will detail the best means to protect competitions from manipulation, what FIFA is doing to promote integrity and to educate players, clubs and officials about the importance of ethical behaviour in football.
Bovolenta said: "Maintaining the integrity of football is crucial to the success and credibility of the sport, as well as to the enjoyment of players and fans around the world. 
"An important part of FIFA's role in governing the world's most popular sport is to share best practice on integrity. As a result, I'm looking forward to taking part in Betting on Sports Europe – Digital and using the opportunity to tell the audience about our work to combat match manipulation. 
"The event will provide a great platform to engage with senior executives from Europe's sports betting industry, and to explain how FIFA is working with local, national and international stakeholders to protect the integrity of football, and to deliver education programmes that promote ethical behaviour." 
Rasmus Sojmark, CEO and Founder of event organiser SBC, said: "We're delighted to welcome Ennio to Betting on Sports Europe – Digital. Integrity is a crucial issue for the sports betting industry, so our audience will be fascinated to learn more about what FIFA is doing to prevent match fixing and what their businesses can do to help."
The Sports Integrity track, one of eight taking place during Betting on Sports Europe – Digital, also features sessions examining which markets sportsbooks should consider too vulnerable to accept bets on, the relationship between problem gambling and match fixing, improving the integrity of data collection, and the impact of the Independent Review Panel on tennis.
Speakers include senior executives and integrity specialists from sports betting operators, data suppliers, sports governing bodies, players' associations, and gambling education organisations. 
To find further details of Betting on Sports Europe – Digital, including the agenda, speaker line-up, information about the interactive product display area, and how to register for free, please visit the event's official website: https://sbcevents.com/betting-on-sports-europe/