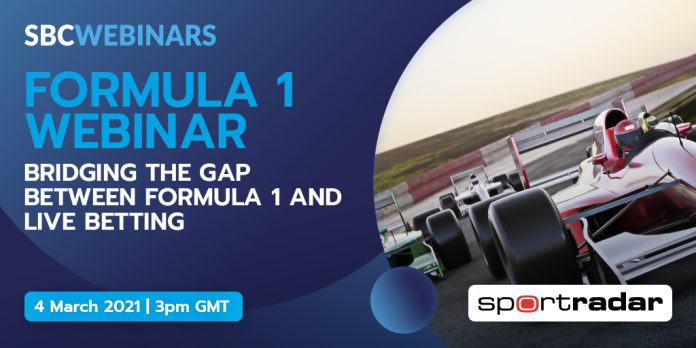 The SBC Webinars series continues on Thursday 4 March when Sportradar presents Bridging the Gap Between Formula 1 and Live Betting, an in-depth examination of the opportunities that one of the world's most popular sports provides for operators. 
This timely session comes just three weeks before the eagerly-awaited 2021 Formula 1 season opens with the Bahrain Grand Prix. It is the first of 23 races spread over nine months, as the sport returns to a full race calendar after 2020's curtailed programme. 
The full Formula 1 season provides numerous opportunities for sportsbook operators to create new content and engage with their audience, while leveraging the power of one of global sport's biggest brands to drive customer acquisition. 
In this exclusive webinar, Sportradar's Dalraj Bahia (Managing Director, Operations – Betting & Gaming) and Hamish Bicket (Director Sports Content & Partnerships) will detail how operators can tap into its official Formula 1 data to maximise this unique opportunity. 
The topics the session will cover include:
How official data taken from the track on race day powers an extensive range of live odds markets to create real-time betting opportunities.

How lap-by-lap betting and fast pay-out cycles change the game for F1 betting and maximise engagement. 

How advanced race visualisations via Sportradar's Live Race trackers provide punters with up-to-the-second information to make informed betting decisions.

 
Register for Bridging the Gap Between Formula 1 and Live Betting: Thursday 4 March at 3pm GMT. 
Dalraj Bahia said: "I'm a huge fan of Formula 1 and it's been exciting to see how our clients have unlocked the potential of our unique F1 Live Odds and Live Data products over the last 12 months. 
"As the 2021 season nears, there are plenty of untapped opportunities to further innovate in-race betting and engage F1 fans across the globe."
Hamish Bicket said: "As the provider of official F1 data for betting purposes, Sportradar's in-race betting offering is the first of its kind within the sport. We receive fast, reliable data from the circuits to provide our clients with an unrivalled depth of markets. No other supplier data can do that." 
Join this SBC Webinar to gain some invaluable insights into how live Formula 1 betting can help to drive customer acquisition and retention for sportsbooks.