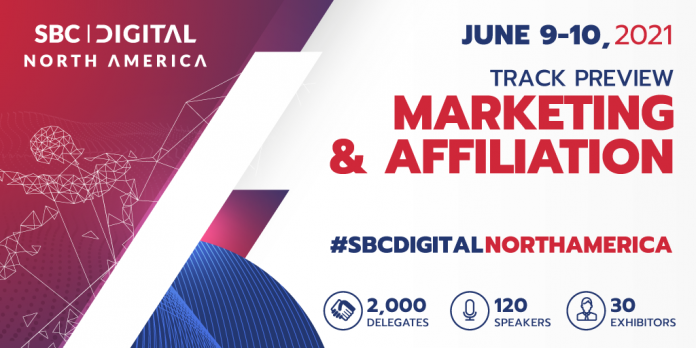 SBC Digital North America is set to provide a deep dive into the marketing strategies that really work for US sports betting operators, with input from senior executives and specialists from Caesars Entertainment, BetMGM, Foxwoods, Penn Interactive, and Yahoo Sports.
The Marketing & Affiliation track on June 9, the opening day of the online conference and expo for the sports betting and igaming industry, will examine how operators have been promoting themselves and how they can raise their game on customer acquisition.
It will open with 'Executive Reality vs. User Expectations – Understanding the Disconnect Between Operators and Their Bettors', a session based on two pieces of fascinating original research by HPL Digital Sport; a player survey conducted by YouGov and a survey of sports betting executives undertaken in partnership with SBC Americas.
The discussion will center on findings that showed operators and their target customers have very different views about the importance of a company's brand and reputation. It will also cover some surprising findings about the user behavior of an often overlooked group, women bettors.
Jan Jones Blackhurst (Board Member, Caesars Entertainment), Dr Laila Mintas (CEO, PlayUp), and Zachary Sold (Head Of Digital Marketing, BetMGM) will join Hot Paper Lantern's CEO Ed Moed on the panel, with Sportico's Eben Novy-Williams in the moderator's chair.
It will be followed by the 'Affiliate Leaders Panel', which will assess how important affiliate brands will be to American sports betting operators in the long term, and detail the extent to which acquisition strategies that have been successful in overseas markets need to be adapted for use in various U.S. states.
The panel features BetMGM's Head of Partnerships Kyle Wachtel and representatives of leading affiliates, including Michael Daly (CEO, Catena Media), Max Bichsel (VP of U.S. Business, Gambling.com, and Becky Kingman-Gros (COO, Global Gaming Business and & iGaming Player).
Attention will then turn to a crucial engagement channel, with the 'Social Networking – Turning Likes Into Dollars, Without Getting Canceled' session. It will evaluate how brands can effectively plan campaigns while retaining the spontaneity that is so often the key to social media popularity, and also debate where brands need to be aware of falling foul of cancel culture.
Experts ready to share their insights on the topic include Sarah Oliphant Crennan (VP & Head of Content, Yahoo Sports), Anika Howard (Vice President, Brand Marketing and Digital, Foxwoods), Siska Concannon (Vice President Marketing, Penn Interactive), and Jessica Welman (Division Director, Catena Media).
The track will conclude with 'The Sports Betting Marketing Revolution: How to Win with Data-Driven Creative', which will see a panel that features Dave O'Meara (Co-Founder, Spirable) and Daniel Toledo (Head Of Performance Marketing – Ladbrokes / Coral for Entain) detail the ways in which operators must be more agile in order to acquire and retain players in a digital-first world.
Sue Schneider, VP Growth & Strategy, Americas for conference organizer SBC, said: "The race to acquire market share has seen operators spend huge sums in the early stages of legal sports betting in U.S. states.
"What the Marketing & Affiliation track at SBC Digital North America will do is reveal which strategies have proved most successful, what operators and their partners have overlooked, how to improve promotional campaigns, and why the changing digital landscape is likely to influence their approach."
The SBC Digital North America conference agenda for day one also includes the Leaders in Sports Betting, Regulation, and Products & Innovation tracks, before attention turns to Leaders in iGaming, Responsible Gambling, Payments, and Standards on the second day.
Alongside the conference, delegates can look forward to viewing the latest sportsbook, igaming, and payments products in the interactive exhibition, and to taking part in a program of themed networking roundtables.
Register for your free pass for SBC Digital North America and find out more about the online conference and expo at the event's official website: https://sbcevents.com/sbc-digital-north-america/