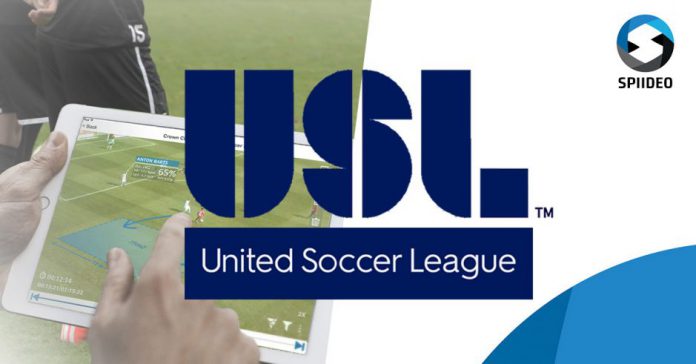 The United Soccer League (USL) has announced that the sports analyst technology specialists Spiideo will provide its advanced sports video recording and analysis solutions for the USL Championship and USL League One.
Spiideo's system provides live, high-resolution panoramic and multi-angle footage of an entire field to help support teams in order to analyse both training sessions and matches.
"We are very excited to reach an agreement for the use of Spiideo by USL Championship and League One teams. The cutting-edge technology has proven a major benefit to clubs in top global leagues and shows a genuine commitment to raising the level of play within our leagues." said USL senior vice president of league operations, Brett Luy.
Nate Winkel, general manager, Spiideo North America commented: "Spiideo is very proud to call USL a partner. The league is growing at lightning pace on and off the field and we are confident that Spiideo is a tool that can further enhance the performance level of players, coaches, and league officials."
The Spiideo system is run through 4k cameras that cover the entire field from multiple angles. An overview of the entire field as well as details of individual players are automatically captured without the need of a camera operator.
With the system, coaches and staff can record a match or a training session and simultaneously use a tablet or a mobile phone to get live video feedback of game sequences.
Users can view, pan, zoom, pause, rewind, edit, tag, and draw in real-time in the cloud-based Spiideo software platform.
"Wide-angle viewing is absolutely critical for competing at the highest level in today's game. Spiideo can produce it live and from multiple angles on their platform which is unique and allows for real-time tactical adjustments.
"Top leagues around the world are using Spiideo as teams, coaches, and players use this platform to improve strategy and gain a competitive advantage," added Jay Heaps, president & general manager of Birmingham Legion FC.
Teams in the USL's top-two tiers will also be able to access the 'Spiideo League Exchange' which allows teams to watch league specific games for scouting purposes.
"As an organisation, we pride ourselves on being ahead of the curve with respect to technology in the marketplace,"  explained Lee Cohen, COO of the Tampa Bay Rowdies.
"When we were approached by the leadership of Spiideo, it was a simple decision to work with them because they have a fantastic platform for a complete video solution that we optimise."