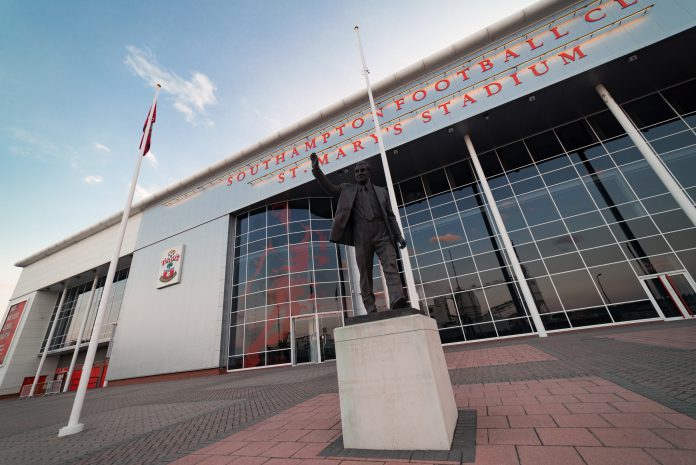 Southampton Football Club has inked a new three-year sponsorship deal with Virgin Media which will see the ultrafast broadband, TV and mobile provider continue as the team's sleeve sponsor.
The deal, which will continue until the end of the 2021/22 season, will see Virgin Media's logo appear on the sleeve of Southampton's Under-18 and Under-23 men's sides as well as becoming the principle sponsor of Southampton FC Women for the first time. Its logo will appear on the front of the shirt from the start of next season.
David Thomas, Commercial Director at Southampton Football Club, praised the new deal: "Over the past three years, Virgin Media has consistently demonstrated a desire to challenge the conventions of traditional sports sponsorship by supporting our first-team and rewarding our fans in new, exciting and innovative ways.
"As such, they are true partners of the club and we're delighted to be extending our relationship for a further three years and expanding their support with more of our teams."
Virgin Media was initially announced as the sponsor of the club at the start of the 2016/17 season, meaning that the new deal will represent more than half a decade of partnership between Virgin Media and Southampton.
Marieanne Spacey-Cale, Southampton's Head of Girls' and Women's Football, commented: "It's fantastic that such a prestigious brand as Virgin Media has decided to make this commitment to the Women's team.
"To have their support on this exciting journey of ours is wonderful and, after a successful season, we look forward to taking on the 2019/20 campaign with them proudly being displayed on the front of our match shirts."
Chris Collinson, Executive Director of Sales and Marketing at Virgin Media, concluded: "By extending our sponsorship of Southampton Football Club, we're continuing our incredible partnership with the Saints and building on the great work over the past three years.
"We're really excited about the new deal with the inclusion of the Under-18 and Under-23 men's sides, as well as becoming the first ever sponsor of Southampton's hugely impressive women's team. The squad is going from strength to strength and we can't wait to support this team of inspiring female footballers.
"We've been blown away by the passion of Southampton supporters. Our recently launched Super Saints campaign will continue to be a cornerstone of our sponsorship as we rightly reward fans for their continued dedication and support."