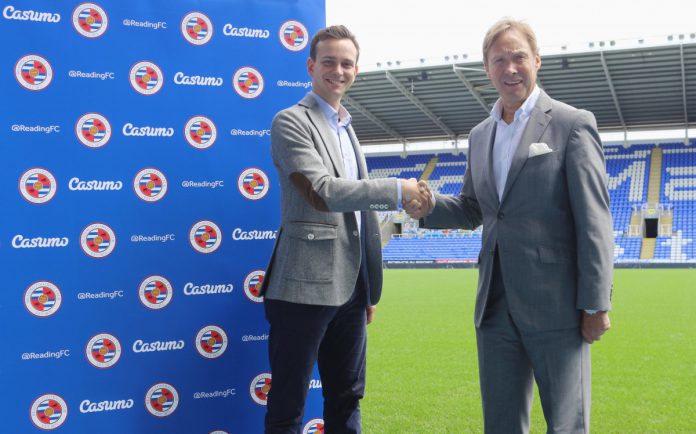 English Championship side, Reading FC has confirmed online casino operator Casumo as its new front-of-shirt sponsor from the start of the 2019-20 season.
As part of the deal with the Royals, Casumo's brand will display its logo on the front of Reading's first-team and adult replica shirts until the summer of 2021.
Chief Executive of Reading FC, Nigel Howe, emphasised: "As a club we celebrate our history, football's traditions and our glories gone by – but we also pride ourselves on being innovative and forward-thinking. Like Casumo, we strive to provide a fun, friendly and exhilarating environment for our fans and we look forward to working closely with Casumo this season and beyond."
Reading FC's Head of Sales and Partnerships, Tim Kilpatrick, detailed: "We're delighted to announce this partnership with a vibrant and creative brand like Casumo. We've been impressed by Casumo's imagination and desire to immerse themselves in to our club, culture and fanbase."
"We look forward to collaborating throughout the next two years and providing a powerful platform for Casumo to achieve their own, ambitious marketing objectives."
Greg Tatton-Brown, UK & Ireland Country Manager, added on the linkup: "Casumo is extremely excited to launch this partnership with Reading Football Club, in what is an historic moment for our brand. We are passionate about working with the Royals to make Madejski Stadium a fun, vibrant and exciting environment for its fans over the course of the next two years."
Samson Sport Consultancy was involved in navigating the operator through its journey in finding the right club to partner with for the coming two seasons.
Having endured a challenging period since the club's playoff final defeat to Huddersfield in 2017, the Royals managed to avoid relegation last campaign and are seeking to regroup and once again mount a challenge towards the top of the Championship next season.