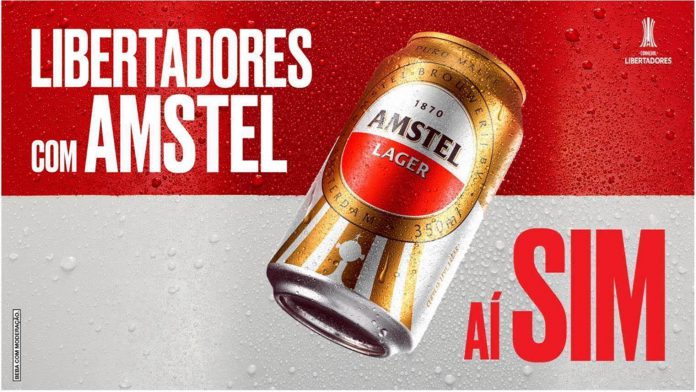 As South American football braces for the CONMEBOL Libertadores final, Amstel has confirmed it has extended its partnership, including the CONMEBOL Libertadores and the new addition of the CONMEBOL Sudamericana, through to 2024.
Amstel has strong portfolio of partnerships within sport, including an elite level football collaboration with an on-going partnership with the UEFA Europa League from 2015. This new contract extension with CONMEBOL further strengthens the Heineken company's position as a key player in South American club football. South America represents a key growth region for the brand, with both competitions providing rich opportunities to engage with local consumers. 
Hans Erik Tuijt, Global Sponsorship Director of Heineken commented: "Amstel has historically had a strong relationship with the sport of football. We are committed to the sport as a key platform to engage with our consumers, as shown by our current sponsorships of the Europa League in Europe and CONMEBOL partnership.  We are excited to be able to build the legacy further with the CONMEBOL sponsorship extension, meaning we will now be involved in the leading club cup championships in South America. 
"Both prestigious competitions continue to grow in popularity and attract a passionate fanbase across the region, allowing Amstel to interact with a very engaged audience. It is an exciting time to be associated with both competitions and the renewed partnership will enable Amstel to create even more engaging experiences for football fans across South America and around the world." 
Juan Emilio Roa, Commercial Director of CONMEBOL, added: "We believe that this agreement is a sign of the growing interest from sponsors in South American football and its international exposure. This alliance with Amstel, a company historically linked to the most important football competitions in the world, is an opportunity to consolidate the CONMEBOL Libertadores and CONMEBOL Sudamericana positioning as world-class references."
The renewed CONMEBOL Libertadores and new CONMEBOL Sudamericana partnership contracts include unique in-stadium visibility and experiences, broadcast sponsorship, branded footage and content for social amplification, and ticket giveaways. The brand will also continue to develop dedicated through the line activations including integrated campaigns, packaging and consumer promotions to showcase the partnership and further establish its position in the region.