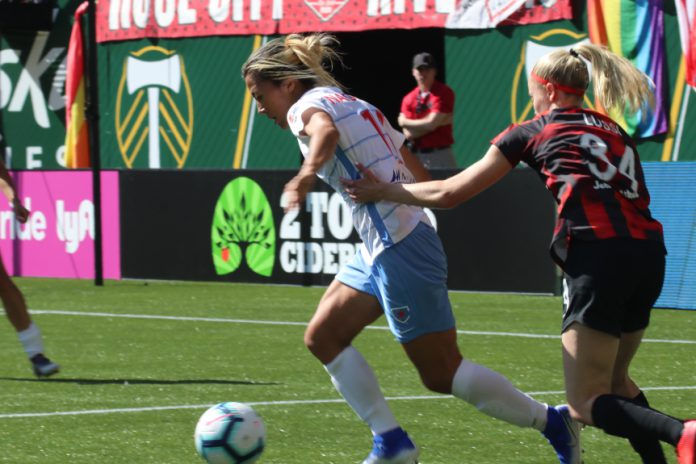 The National Women's Soccer League (NWSL) has penned a multi-year media rights agreement with CBS Sports and streaming service Twitch, which sees both platforms share all of NWSL's matches for the next three years.
The agreement, which begins at the start of the NWSL 2020 campaign, will provide CBS Sports with 87 NWSL matches across CBS, CBS Sports Network, and CBS' subscription service 'All Access'.

Lisa Baird, Commissioner of the NWSL, stated: "The NWSL is elated to partner with CBS Sports and Twitch, two incredible media companies with a proven track record of award-winning coverage
"This new media-rights agreement is a watershed moment for women's soccer in the U.S. and around the world and is the first time NWSL matches will be available to such a wide audience. We are excited to work with CBS with its rich history, tradition and storied innovation to utilise the power of their multiple platforms to reach more fans."

Meanwhile, Twitch will present 24 free matches during the 2020 NWSL regular season, serving as the competition's exclusive international media rights partner.
Baird continued: "We also are eager to team up with Twitch to showcase the brightest stars in the sport. These partnerships will continue to amplify the NWSL and its teams on a national and international stage."
Throughout the duration of the agreement both companies will collaborate on league and player-related content including a variety of original programming opportunities in order to increase the sport's global appeal whilst increasing fan experiences during and leading up to matches. 
Michael Aragon, SVP of Content at Twitch emphasised: "We couldn't be more excited to partner with the NWSL as we further expand our sports content on Twitch.
"Their players are the greatest athletes in their sport from around the world and we are thrilled the NWSL chose Twitch as their home to build a bigger community of soccer enthusiasts."

Dan Weinberg, EVP, Programming, CBS Sports added: "We are excited to partner with the National Women's Soccer League, bringing one of the top women's sports leagues to CBS Sports.
"This deal will showcase the strength of CBS' multi-platform assets across broadcast, cable and digital by bringing marquee games, including the Semifinals and NWSL Championship to CBS, CBS Sports Network and CBS All Access. We look forward to using our reach across all our platforms to highlight many of the best soccer players in the world."

Insider Insight: NWSL's new media agreement will only continue to develop a blossoming league. While securing a major network in the U.S. market, the league's decision to globally stream on Twitch will be seen as a financially beneficial move as it offers sponsors global exposure.