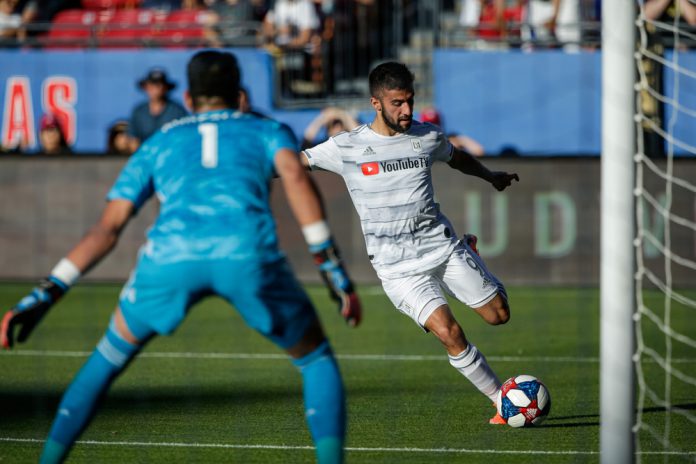 Los Angeles FC (LAFC) has enhanced its sponsorship portfolio for the upcoming 2020 season by securing a multi-year partnership with Farmer John.
As part of the deal Farmer John will become the official packaged meat partner for LAFC, with the firm also being heavily included in 'L.A. Familia', the football club's community-focused campaign. Moreover, Farmer John will serve as a community engagement associate partner for a handful of LAFC community initiatives.
LAFC President and Co-Owner Tom Penn stated: "We are so excited to welcome Farmer John to the Black & Gold family. Farmer John is an industry leader who shares our vision of providing a first-class customer experience while also making sure that we are true community partners in Los Angeles."
The partnership also includes Farmer John serving as a presenting partner for LAFC's upcoming 'Max Live' episode, a show which the club has been airing on Instagram featuring Max Bretos and two-time MLS Golden Boot winner Bradley Wright-Phillips.
"As a mainstay in the sports community in and around Los Angeles for decades, Farmer John is proud to partner with LAFC and join one of the most energetic and enthusiastic fanbases in the country," added Michael Merritt, senior marketing director for Farmer John.
"Together, we'll celebrate our beloved city in an even bigger way. Through this partnership and the 'L.A. Familia' program, we have the privilege to showcase and support some of the heartfelt work being done within the local community, which is needed now more than ever."
LAFC's MLS campaign was postponed after two games following the COVID-19 outbreak, which resulted in most sporting events around the world being suspended indefinitely. MLS' latest suspension is set to conclude on May 10, however, there is no indication as to when the competition will officially begin.