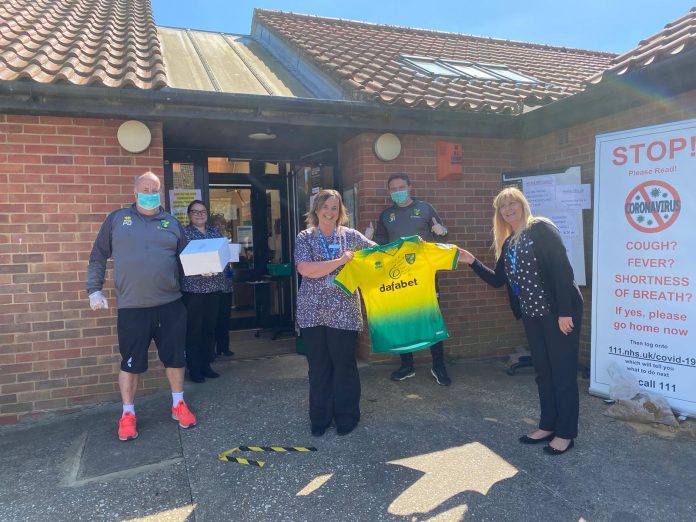 Norwich City has enhanced its partnership with club partner iPRO to provide hydration to nurses and care home staff working on the front line against COVID-19. 
iPRO, the club's official hydration partner, have donated over 1700 bottles of iPRO water and iPRO Wellness Hydration drinks to help key workers in Norfolk stay hydrated while keeping us all safe. 
Pete Dye, Norwich City Kit Manager, commented: "The whole team involved in the COVID-19 Community Project are really grateful for the support of our club partner iPRO with this project. It has allowed us to provide hydration to the key workers who need it most.
"Usually iPRO is used to hydrate the players while they are training and playing matches but since they haven't been able to play it really was a no-brainer to utilise the product in another way."
The bottles have been distributed to care homes and NHS practices across Norfolk to help those workers stay hydrated while wearing personal protective equipment in the warm weather. 
iPRO Commercial Manager, Lucy Darrall, added: "We are delighted to work with the club to donate our drinks to the Norfolk community. With temperatures increasing it is vital that staff working on the frontline stay hydrated and healthy, and iPRO Hydrate is the perfect product to replenish the body with essential vitamins and electrolytes which you lose through sweat."
"The club and the Community Sports Foundation have been doing great work to support local communities and we look forward to working with both organisations again in the coming months."
Insider Insight: For Premier League clubs to utilise their assets to benefit society and worthy causes is commendable and very much needed during this time of national crisis. Furthermore, the collaboration between iPRO and the Canaries is a great example of sponsorship being used effectively for good causes.