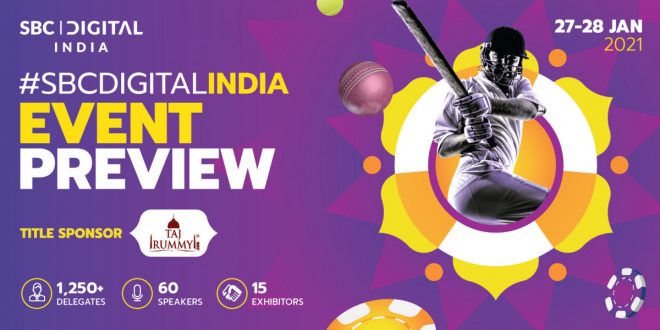 The All India Gaming Federation (AIGF) is set to play a central role in this week's SBC Digital India conference and exhibition, where the body's senior team will join a stellar line-up of speakers ready to share valuable information about the opportunities in the country's real-money gaming market.
The AIGF represents the major players in the Indian online skill games industry in discussions with national and state governments, and has also formulated a self-regulatory charter for rummy, poker, fantasy sports, casual games, and esports operators.
Roland Landers (CEO) and Sunil Krishnamurthy (General Secretary) will use SBC Digital India's keynote to outline the potential of the country's skills games industry and to detail the AIGF's work, while advisory panel member Christina Thakor-Rankin will participate in a conference session about the future of fantasy sports.
The online event on 27 – 28 January will also see a host of company founders and other senior executives from AIGF members share their insights and ideas with an audience comprising both the local industry and international operators.
Sports is the theme of Day One's agenda, which includes panels about the next steps for India's 90 million-player online fantasy sports market, what a regulated sports betting industry could mean for cricket, the new generation of esports players, and the use of brand ambassadors by gaming companies.
The hand-picked speaker line-up for the opening day features Dinesh Kruplani (Founder & CEO, Crustplay), Mukul Anand (Head of Product, FanFight), Suresh Paladugu (Director, NorthAlley), Seemant Shankar (Co-Founder & CTO, Sports Unity), Vidushpat Singhania (Managing Partner, Krida Legal), Sanupam Samantray (Co-Founder, Playtonia) and Laxmi Khanolkar (Co-Founder  & CEO, Apar Games).
Shankar said: "Digital gaming has grown exponentially over the last five years. The ongoing pandemic is bringing an increased focus on how consumers are shifting to gaming as their primary platform not only for entertainment, but also for the largely lacking human connection. 
"SBC Digital India is where the heavyweights of the gaming industry in the country will come together to share their experiences of the challenges and ideas for the road ahead to a brighter future in real-money gaming."
Attention will turn from sports to skill gaming on Day Two, when the agenda has sessions about the likelihood of further states permitting land-based casinos, the legal battles faced by the online skill games industry, the growth potential of poker operators, and investment opportunities for European operators. 
The second day's speaker roster features a selection of leaders from some of India's most successful gaming companies, including Pariekshit Maadishetti, the founder of Grid Logic Group and the event's title sponsor Taj Rummy.
He will be joined by local-market experts such as Manoj Jain (Senior Vice-President, Delta Corp), Yashashvi Takallapalli (Co-Founder, NostraGamus), Debashish Bhattacharjee (Co-Founder & CMO, Pocket52), Sudhir Kamath (CEO & Co-Founder, 9Stacks), Anuj Gupta (Founder, Adda52.com), and Kinshuk Sunil (Founder, Hashstash). 
Sunil said: "Online gaming is growing rapidly in India. As an industry which is now self-regulating and enables its millions of users to play and earn real money, conferences like SBC Digital India are great opportunities to bring the industry together and have meaningful discussions about the road ahead."
Delegates will have access to an interactive product display area where leading gaming industry suppliers will showcase their latest innovations for the local market, as well as to a selection of virtual networking roundtables that offer a straightforward way to connect with fellow attendees with shared business interests. 
To view the full agenda and speaker list for SBC Digital India, and to register for free, please visit the event's official website.