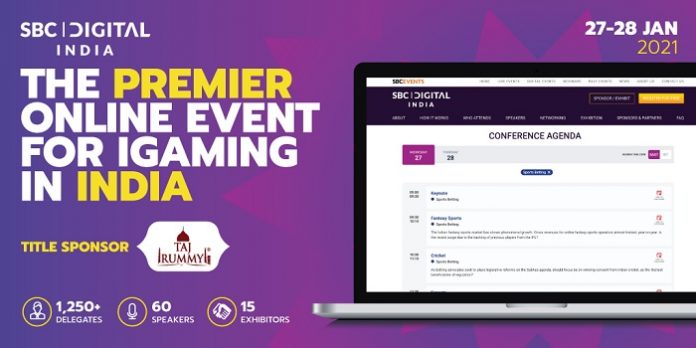 Next week's SBC Digital India conference and exhibition is set to deliver an in-depth examination of the link between India's world-renowned technology industry and its rapidly growing gaming sector. 
The online event on 27-28 January 2021 will bring together international operators and leading figures from all sectors of the Indian real-money gaming industry, including a strong contingent of technology experts.
India has emerged as a global technology hub in recent years, with world-leading expertise in fields such as artificial intelligence, healthtech and fintech. According to NASSCOM data, its IT industry is worth $191 billion and employs 4.4 million people.
The skills and business acumen learned in the IT industry are now being utilised to develop a new generation of real-money gaming products. From fantasy sports, rummy, poker and quiz platforms for the vast domestic market, through to slot games and bespoke software projects for overseas operators, Indian companies have launched some of the sector's most innovative products. 
One of the key strands of the SBC Digital India conference agenda is how the latest technologies are driving the growth of the gaming industry. To reflect that, the speaker line-up includes the visionaries behind some of the companies that have harnessed those new technologies to create successful platforms and games. 
The 60-strong speaker roster features Seemant Shankar (Co-Founder & CTO, Sports Unity), Sanupam Samantray (Co-Founder, Playtonia), Kinshuk Sunil (Founder, Hashstash), Yashashvi Takallapalli (Co-Founder, NostraGamus), Prem Dharmani (Product Lead – Fantasy Sports, Mobile Premier League), Mukul Anand (Head of Product, FanFight), and many other experts from India's leading tech-driven gaming companies. 
A further key speaker is Pariekshit Maadishetti, the founder of Grid Logic Group and the event's title sponsor Taj Rummy, a market leading gaming brand that is also the largest and only B2B white label solution provider (Taj Network) for rummy, poker and fantasy that utilises player liquidity along with platform to help launch operators in India.
Maadishetti said: "The online gaming industry has enjoyed great growth in India over the past few years, thanks to our skilled young talent using the latest technologies to create engaging, user-friendly and secure products.
"SBC Digital India offers a great opportunity for Indian companies to showcase those products to prospective customers in both the domestic and international markets, and to make valuable new business connections."
Rasmus Sojmark, CEO of event organiser SBC, said: "India has emerged as a tech powerhouse in recent years, so it is a natural home for product development in the tech-led online gaming industry. 
"We have some fantastic speakers with track records of successfully launching real-money gaming companies and products, and it will be fascinating to learn more about their experiences and the potential for the industry in India."
To find out more about SBC Digital India, and to register for free, please visit the event's official website.