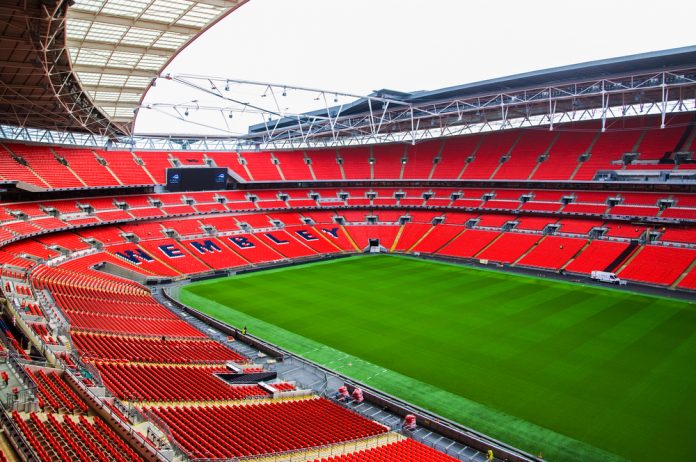 Sports fans across the UK have been given a boost after Prime Minister Boris Johnson announced that, despite the delay of 'freedom day', numerous sporting test events, including the UEFA European Championships, will still be able to accommodate spectators.
The Prime Minister delayed the easing of lockdown restrictions by four weeks from the original date to 19 July, but the European Championships, along with Wimbledon, England's cricket Test against India, the golf Open Championship, the British Grand Prix and the Challenge Cup final could all go ahead as planned with 'greater capacities', with 'up to 20 events' being considered for the next phase of the Events Research Programme (ERP).
As a result, England will be permitted to host a crowd of 40,000 spectators at Wembley Stadium for the Three Lions' potential last-16 tie. In addition, the semi-finals and the final in July will also be staged at 50% capacity, as confirmed by Culture Secretary, Oliver Dowden.
England's group games will continue to be played out in front of crowds of 22,500 – equating to 25% of Wembley's capacity – with the fixtures already included in the extended ERP.
Meanwhile, Wimbledon, which commences June 28, will operate at 50% capacity, increasing to 100% capacity – equating to 15,000 spectators – on Centre Court for the showpiece men's and women's finals on 10 and 11 July.
"The third phase of the programme will see the UEFA Euro 2020 Round of 16 match at Wembley Stadium on June 29 staged at 50% capacity as well as the semi-finals and final in July," a statement from the Department for Digital, Culture, Media and Sport (DCMS) announced. "Under this arrangement around 40,000 fans will be present for these matches, the largest crowd in the UK in over 15 months."
It continued: "Full details of capacity limits for each specific event will be set out in due course.
"We will monitor the position every day and after two weeks we've concluded the risk has diminished then we reserve the possibility of moving to step four and a full reopening sooner."
Outdoor venues with a seated capacity of 16,000 or above have been capped at 10,000 or 25% of capacity – depending on which is lowest. Conversely, for outdoor venues with less seating, the limit has been set at 4,000 or 50% of capacity – whichever is lowest.
For indoor venues, however, the limit is 1,000 or 50% capacity, again depending on whichever is lowest.
"We want to gather further evidence on how we can open up all big events safely, and for good," Dowden remarked. "The expansion of trials of the NHS App and Lateral Flow Testing will mean that bigger crowds will be able to attend a limited number of major sporting and cultural events early this summer as part of our Events Research Programme.
"In the next few weeks this means more fans enjoying the Euros and Wimbledon, and some of our biggest cultural and sports events."
However, the racing industry was left feeling 'disappointed' after it was confirmed that racecourse restrictions would remain, with a joint statement released by the British Horseracing Authority (BHA), Racecourse Association (RCA) and Racehorse Owners Association reaffirming that 'this is not a sustainable situation for a £4 billion industry'.
BHA Chief Executive, Julie Harrington, commented: "While it is disappointing that plans for the relaxation of restrictions and the further return of spectators have been delayed, we of course understand the principle that government's decisions should be evidence-based and public health must come first."