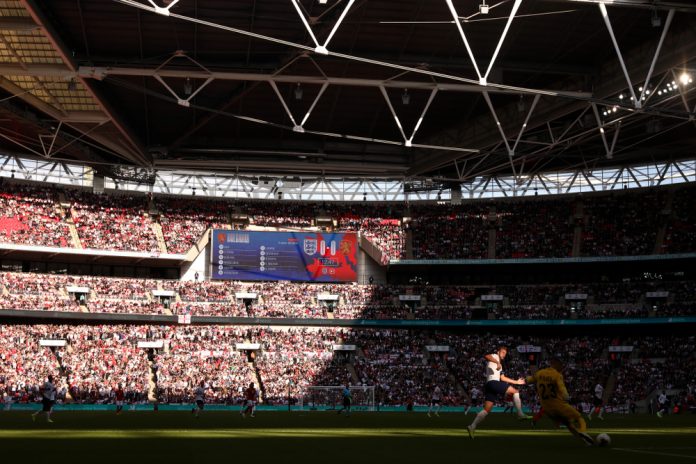 The Football Association (FA) has confirmed to UEFA that the Wembley stadium will function at between 25% and 50% capacity for select Euro 2020 Championships fixtures.
25,000 English fans will be able to watch the national team at each game, whilst 45,000 spectators will be permitted to attend the semi-finals and finals.
Meanwhile, the Socttish FA has also confirmed that Glasgow's Hampden Park stadium will allow 13,000 supporters in attendance, also representing a capacity of around 25%.
A ticket window for Scottish supporters – who have been unable to reserve any seats since qualifying for the tournament – will be launched in early May, whilst it is likely that around 3,600 tickets will be reserved for the Tartan Army for the clash against England on 18 June, representing 16% of the total venue capacity.
Additionally, the FA stated that fans will have to complete lateral flow tests the day prior to the matches to confirm positivity for the COVID-19 virus, and the possibility of spectators providing proof of vaccination has also been touted. 
Several other host venues have also announced similar testing measures to ensure the safeguarding of fans throughout the competition.
The FA's plans were put forward to UEFA at a meeting of the 12 host cities yesterday, although the continental governing body has extended its deadline for attendance plans, with the intention of securing 50% capacity for the finals. 
Furthermore, host venues outlined guidelines regarding quarantine restrictions for players, with teams and player's exempt on the condition that they only use authorised transport, eat in the hotels they stay in and stick to their respective 'bubbles'.
Under the UK government's four-stage roadmap for exiting national lockdown, sports events can have 10,000 spectators from 17 May onwards, with further easing after 21 June.
As England's group matches against Scotland, Croatia and Czechia fall on 13 June, 18 June and 22 June, the planned capacity will be twice the government mandated limit. 
However, as the fixtures are considered 'test events,' the plans will likely be allowed to go ahead. Similar test events include the upcoming FA Cup semi-finals, which will accommodate 4,000 fans.
The FA has also been in talks with Brent Council regarding the FA Cup FInal's status as a pilot test event, with up to 20,000 fans possibly able to attend the annual event on 15 May.
Moreover, the World Snooker Championship at Sheffield's Crucible Theatre will also host spectators, operating at a 33% capacity for the first round form 17-21 April, expanding to 50% for second round matches on 22 April, and culminating at 75% for the quarter-finals and semi-finals.
Organisers are hopeful the event will function at full capacity for the final, with testing mandatory throughout the event.