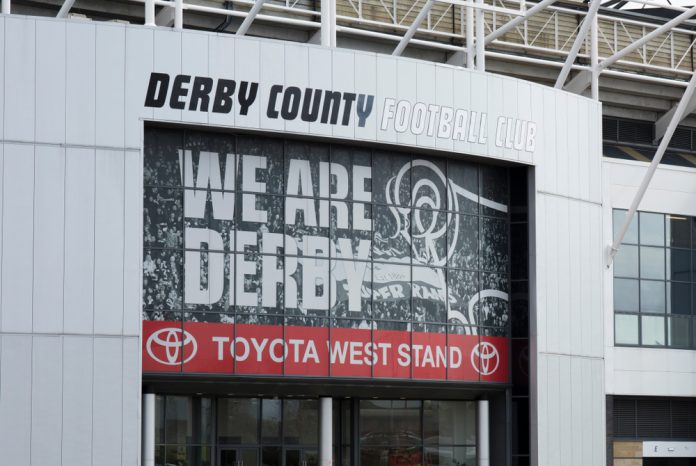 Derby County has been hit with a £100,000 fine by an independent disciplinary commission, as the English Football League (EFL) released an 'interchangeable' fixture list, which accounts for the Rams potentially being relegated to the third-tier.
The club, which could face a retrospective points deduction and relegation to the EFL League One, were warned 18 months ago about 'future conduct regarding the preparation of its annual accounts'.
Last season, the Rams preserved their second-tier status after some final day drama against relegation rivals Sheffield Wednesday, as Wycombe Wanderers finished in 22nd – a point and a place behind Derby.
Derby were initially cleared of violating the EFL's financial rules, before the league won an appeal in May.
When the EFL fixture list for the upcoming 2021/22 season were released this morning, Derby noted: "Please note that these fixtures are subject to change and at this stage the fixture list is regarded as a DRAFT."
Both the club and the EFL have a right to appeal the sanction decision, meaning Derby could still be relegated to League One next season, with the alternative fixture schedules accounting for the possibility of the EFL calling for a points deduction.
"Although the Disciplinary Commission has yet to publish its full written reasons for its decision, the EFL issued a press release about it and the fixture list last night," Derby County said in a statement.
"The club is disappointed that the EFL has not, as is usual, waited until after the publication of the Disciplinary Commission's reasons nor agreed a statement with the club and in addition has chosen to be selective about the decision and present it in a form which omit key dates and details."
The EFL explained in its own statement: "The club has also been ordered to file restated accounts for financial years ending 30 June 2016, 2017 and 2018 that meet the requirements of FRS102, together with updated Profit & Sustainability calculations if necessary."
"That being the case, ahead of the publication of the 2021/22 season fixture lists on 24 June at 9am, the EFL can confirm that it has developed an interchangeable fixture list for Derby County and Wycombe Wanderers, while the disciplinary process is finalised."