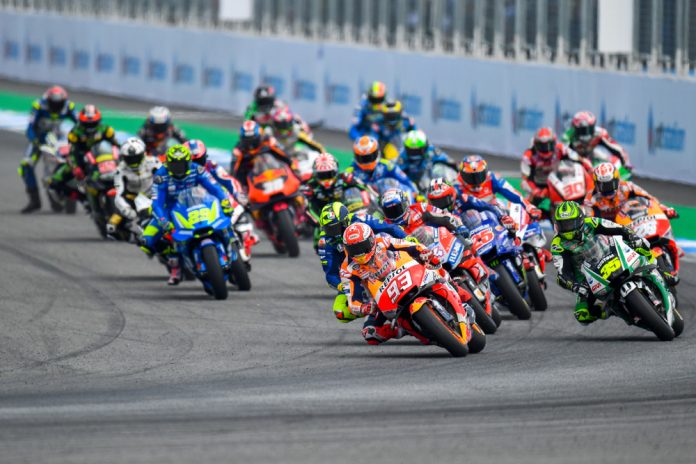 Dorna Sports has named blockchain technology company Bitci.com as the official sponsor of the FIM MotoGP World Championship as part of a three-year agreement, which kicks off this season.
The deal also includes the title sponsorship of the 2021 Austrian Grand Prix, which takes place at the Red Bull Ring in Styria from 13 to 15 August, and will be rebranded as the Bitci Motorrad Grand Prix von Österreich.
In addition, Bitci.com will also benefit from a trackside presence at different circuits on the calendar throughout 2021, 2022 and 2023.
Onur Altan Tan, Bitci Technology CEO, said: "We are very happy to implement the first agreement of its kind with a motorsport World Championship. Now we are strengthening our presence here with MotoGP.
"This will also be the first fan token project to be developed under the umbrella of an organisation in the world of motorsports.
"I would like to thank the entire MotoGP organisation for their great efforts in the realisation of such an important project and supporting this project with their visions. MotoGP and Bitci cooperation, this sport spreads to a much wider audience; It will also contribute to a much more effective racing experience for existing followers."
In addition, Bitci will be a key trackside presence over the next three seasons. In 2021, corners at different tracks on the calendar will display Bitci.com branding as the cryptocurrency market joins forces with the world's fastest motorcycle racing Championship.
"We are delighted to welcome Bitci as an official sponsor of MotoGP," said Manel Arroyo, Chief Commercial Officer at Dorna Sports.
"It's always exciting to begin such an important partnership, and in the new world of cryptocurrency which is full of huge potential. I look forward to this new endeavour together with Bitci, and to giving our fans a new way to engage with the sport, as well as creating a fantastic new way to enlarge the MotoGP community.
"I'm delighted to see Bitci take top billing in Austria and enjoy a key presence on track at some of the greatest venues visited by our sport in the future."