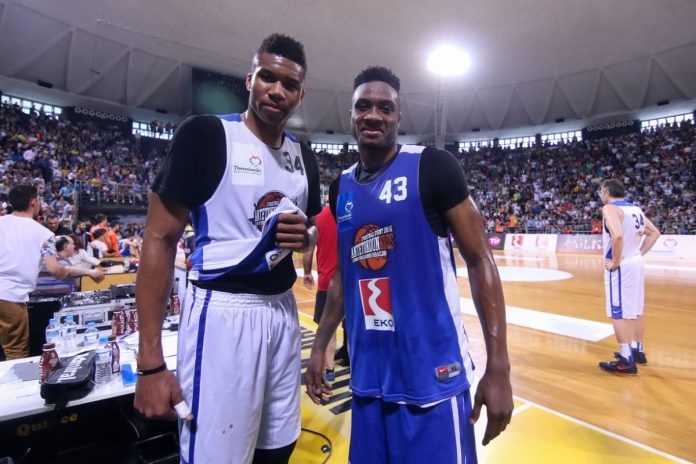 NBA Champion Giannis Anetetokounmpo and his brothers, Thanasis, Kostas and Alex, have made an undisclosed investment into Major League Soccer (MLS) franchise Nashville SC.
The Milwaukee Bucks superstar becomes one of the faces of the new ownership group running Nashville SC, with he and his brothers joining Nashville Predators' Filip Forsberg, actress Reece Witherspoon and Tennessee Titans running back Derrick Henry.
The two-time NBA MVP winner, despite being one of the most recognisable names in basketball, states that soccer was the first sport he fell in love with and was a dream of his to own a soccer team in the future.
He said: "My father was a professional soccer player, and it was the first sport I fell in love with in Greece. "I've always had the dream of owning a soccer team.
"When my brothers and I explored Nashville SC, we knew it was a team and a city that we wanted to get involved with. I couldn't be more excited to join the Boys in Gold, and can't wait to come to a match at Geodis Park soon."
Nashville SC is one game into its 2023 season and won their first game of the season 2-0 against New York City FC. The team plays in the 30,000-seat Geodis Park which debuted last season, built upon at the Nashville fairgrounds.
Geodis Park features a 360-degree roof or canopy over the seats with steel struts and brick designed to mimic the industrial area in the neighbourhood. Club seats have access to three separate themed-club areas on the west side of the stadium, while the west side features a 65-foot wide concourse.
"Soccer is a global sport, and our newest owners once again reinforce our club's commitment to being a global team," commented Principal Owner John Ingram.
"Filip and Giannis are not just amazing athletes – they are ambassadors for their respective sports, role models for millions and advocates in their hometowns and worldwide.
"We share a common belief that our teams not only play to the highest standards, but also lift up their communities and help those who need it most."
The Antetokounmpo brothers become the latest basketball players to invest into MLS clubs, with Kevin Durant purchasing a 5% stake in the Philadelphia Union and James Harden acquiring a similar stake into Houston Dynamo.