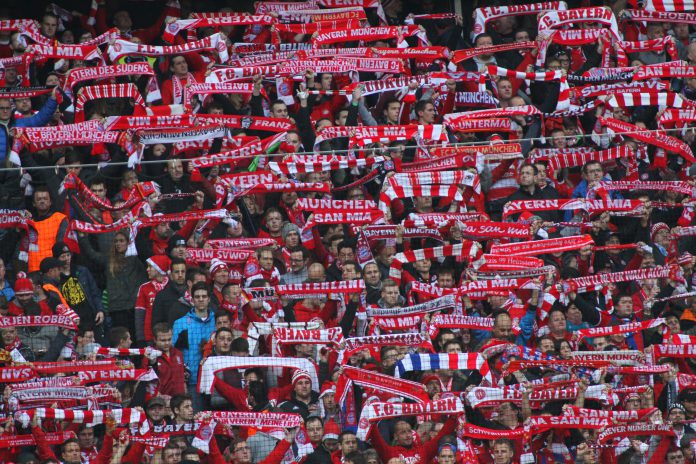 Plans have been unveiled for German Bundesliga champions, FC Bayern Munich to expand its presence in Munich, with a new retail and hospitality centre.
The new 'FC Bayern World', which aims to be open by 2020 will open near Munich's Marienplatz, as part of an idea has been developed in cooperation with owners Nymphenburg Immobilien AG and Hild und K Architekten.
The seven-storey building in Weinstraße 7 and 7a will comprise the biggest FC Bayern Store (a flagship fan shop of 1000 m² on three floors), two restaurants, a Bavarian-style boutique hotel of around 30 rooms and an event location. FC Bayern chairman Karl-Heinz Rummenigge and Jörg Wacker, executive board member for internationalisation and strategy, signed the contract a few months ago.
Gastronomic partner DO & CO will be responsible for the Bavarian and the international restaurant, the boutique hotel and the entire event location at the FC Bayern World. The listed company from Vienna is already in charge of the entire Allianz Arena Hospitality.
Jörg Wacker, who is also responsible for merchandising and licensing, commented: "The entire project will be spectacular. It will reflect FC Bayern's ties to its home city of Munich and Bavaria. It's important for our brand that this extraordinary project is erected in a prime location in the city centre. Our visitors from outside the city, the inhabitants of Munich and all FC Bayern fans will have a premium venue with the flagship store, the boutique hotel and the two restaurants, in one of the historic city's most beautiful places, between the cathedral and the town hall."
DO & CO chairman Attila Dogudan added: "The project is of big emotional significance to us. We value a respectful approach to architecture and will make sure our visitors will feel at home here. We practice this very successfully in Vienna today, and now we're creating it along with FC Bayern in Munich."