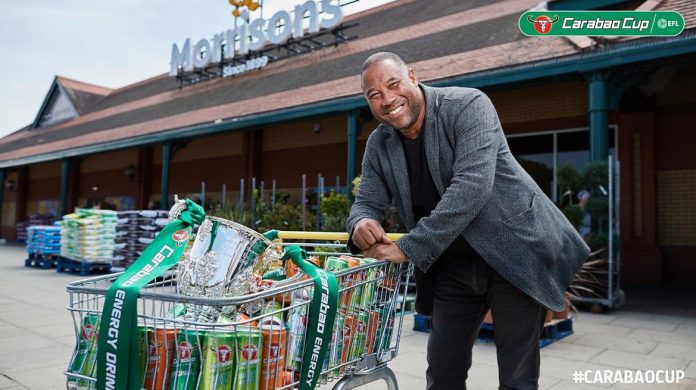 The Carabao Cup first-round draw will return to home soil for the 2019-20 campaign – due to take place in a London Morrisons car park.
Described as "often unique and unpredictable," fans will be able to watch the draw live at the Colindale Morrisons store and via the Carabao Cup Facebook page, with hosts John Barnes and Ray Parlour selecting the fixtures for round one.
John Barnes commented: "I'm delighted to be involved in the Carabao Cup Round One draw this season, it's a fantastic competition and Round One is always a great occasion for fans of EFL Clubs.
"They get an early glimpse of their summer signings and can be a good opportunity for families to get together and watch their local team thanks to how accessible the Cup is."
The EFL has leveraged Carabao's presence in Asia to help boost the competitions prestige globally with draws previously taking place in China, Thailand and Vietnam in recent seasons.
Overall 70 English Football League (EFL) clubs, split into Northern and Southern sections, will feature live in the draw on Thursday 20 June; games are scheduled to take place week commencing 12 August.
Arsenal favourite Ray Parlour said: "I always enjoy watching the Carabao Cup so it's great to be involved in the Round One draw.
"Hosting the draw in a supermarket as fans go about their daily lives provides them with a great opportunity to engage with the competition and I can't wait to see who will be crowned Carabao Cup winners this season."
Last years final was contested by Chelsea and holders Manchester City, who retained their title with a 4-3 victory on penalties following a 0-0 draw after extra time.