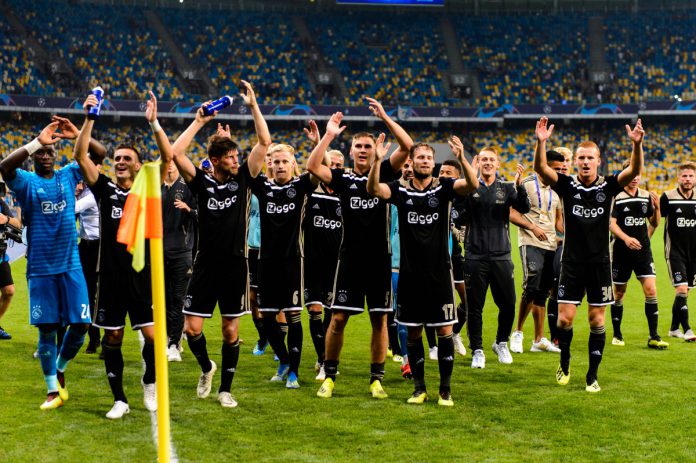 Eredivisie side Ajax has announced an extension to its current sponsorship deal with Dutch TV, broadband and telephone operator Ziggo, which has  been the main front-of-shirt sponsor of Ajax since January 2015.
Over its four-and-a-half year partnership, Ziggo has paid €8 million per year in sponsorship fees to the club with up to €2 million in bonuses added annually as well.
The new deal which extends the collaboration between Ajax and Zippo until the summer of 2022, at least, will reportedly see an increase to the €8 million yearly payable amount from the multimedia provider.
There is also an option within the new deal for a further extension which could see the contract run until 2024 if both parties are in agreement with such a move.
Ziggo will have benefitted hugely from Ajax's fantastic Champions League campaign in 2018/19 when the Dutch giants marched all the way to the semi-finals before going down in agonising fashion to Tottenham Hotspur.
Ajax overcame European football giants such as LaLiga's Real Madrid and Serie A's Juventus in the knockout stages of the competition – ties which received an enormous amount of worldwide exposure.
On the domestic front, Ajax won its first Dutch league title since 2014, taking the mantle back from arch-rivals PSV Eindhoven, winning the league by a three-point margin.
Ziggo will continue to have their name and logo emblazoned across the Ajax first team jerseys as well as the Jong Ajax (Ajax reserves) and the Ajax eSports teams kits.
Speaking about the deal, Ajax chief executive Edwin van der Sar said: "We are very grateful to Ziggo for the trust placed in us and the way in which they, as the main sponsor, give substance to our cooperation.
"Ziggo will also organise several activities and promotions for our fans this season."