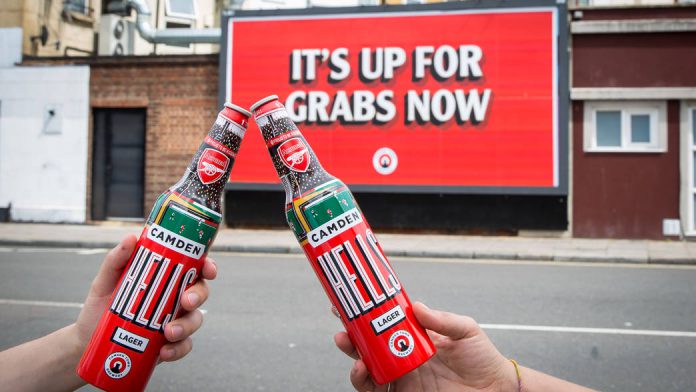 Ahead of the new season, Arsenal has unveiled a new partnership with local company Camden Town Brewery, as it becomes the club's official beer partner in the UK and Ireland.
The three-year partnership will see Camden Town Brewery providing beer across Emirates Stadium from the start of the season, the brewery are offering one supporter the prize of a lifetime.
Arsenal's commercial director, Peter Silverstone, commented: "We are always working to improve the matchday experience at Emirates Stadium, so to partner with the local and hugely renowned Camden Town Brewery is very exciting. Camden's enthusiasm is infectious and their desire to support our fans is clear to see through their incredible competition offer to kick-start our partnership. We look forward to working with them on more exciting initiatives to capture the hearts and taste buds of Arsenal fans."
As part of this partnership, Camden Town Brewery will have use of our IP and imagery for marketing purposes, with rights across our digital, social and online platforms. Bar branding will feature throughout Emirates Stadium and Champions Bar will be transformed into a Camden Town Brewery tavern.
Jasper Cuppaidge, Camden Town Brewery founder, added: "If you'd have told me 10 years ago that the beer I was creating in my basement in North London would one day be the beer of Arsenal Football Club – the club I love – I would have thought you were crazy, but I would have loved the idea of it!
"The partnership with Arsenal marks a huge moment both for me and for the entire team at Camden Town Brewery and we can't wait to share our great beers and a better beer experience with all of the supporters like myself."
First brewed in 2010 by founder and lifelong Arsenal supporter, Jasper Cuppaidge, in his Hampstead pub, The Horseshoe, Camden Town Brewery has seen significant growth in its relatively short history. Despite this growth, the original brewery is still based locally, just two miles from Emirates Stadium within the Victorian railway arches underneath Kentish Town West station.