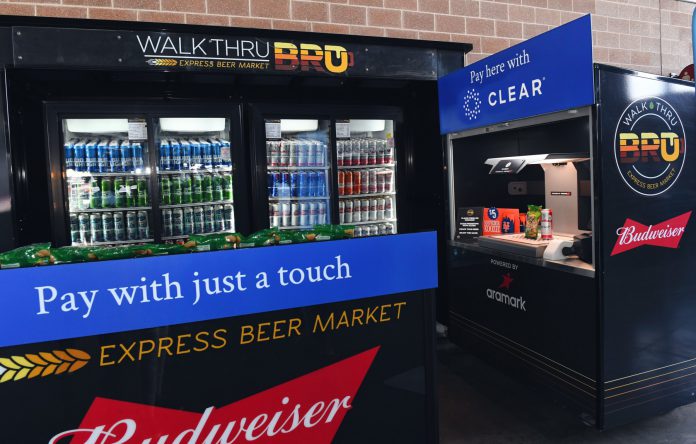 The New York Mets and Aramark, the food and beverage provider for Citi Field and eight other MLB ballparks, unveiled a collaboration with CLEAR, for the implementation of a cashless experience at the stadium.
The collaboration utilises Artificial Intelligence (AI) to scan multiple items at once, to transform the concessions experience at Citi Field. As part of this pilot, fans will be able  snacks and beverages from the Walk Thru Bru express self-checkout kiosk, complete their purchase with a single touch, and be on their way in seconds.
Carl Mittleman, President of Aramark's Sports & Entertainment Division commented: "As an industry leader, we're continually researching innovative ways to utilise digital technology to create a more streamlined, convenient and frictionless process that allows fans to purchase food faster and get back to their seats. The fully-automated self-checkout we're testing with the Mets, CLEAR and Mashgin is just the latest example of us working to transform the in-venue dining experience and delivering solutions that meet the needs and preferences of our clients and guests."
When items placed on the unit also include an alcoholic beverage, CLEAR simultaneously verifies that the member is of legal drinking age before completing the transaction. The combined experience allows fans to get what they need quickly and easily while providing venue and concession operators with a more reliable and secure way to do age-verification. (Note: An Aramark customer service representative will continue to be stationed at the stand to assist guests and enforce service policies.)
Mets Executive Vice President & Chief Revenue Officer Lou DePaoli added: "Enhancing the game experience for our fans remains a priority, and this innovative solution will help further their experience while at Citi Field. We appreciate the innovation, flexibility, and partnership which will allow us to be the first ballpark utilising these digital technologies across the ticketing, security, and concession platforms for our fans."
Located behind Section 130, the fully-automated Walk Thru Bru is available to CLEAR members at all remaining home games this regular season. For fans who are not members, CLEAR Ambassadors will be onsite to assist with free enrolment, which can be used immediately.