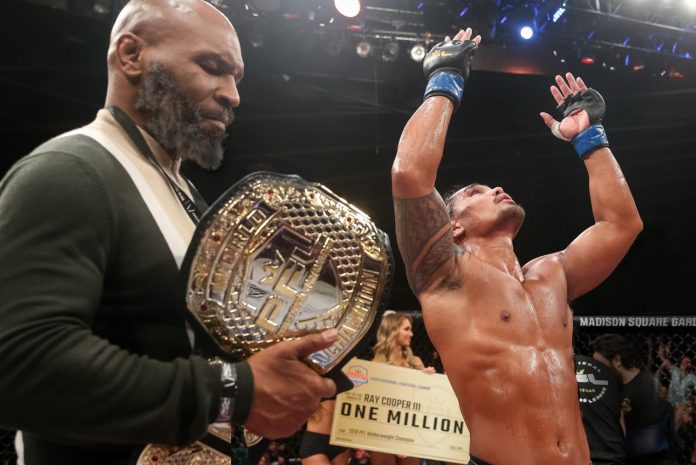 MMA organisation the Professional Fighters League (PFL) has struck a 'long-term marketing and technology partnership' with software company Acronis in order to strengthen the firm's cyber security.
The deal between Acronis and the seasonal MMA competition will specifically focus on cyber protection for the league's data, applications and systems. Moreover, Acronis will provide PFL with media archive tools to manage increased content produced by PFL Studios which will be used across various platforms including television, digital and mobile. 
"We are excited to partner with Acronis and equip the PFL with cyber protection solutions and services that will enhance our media business operations," stated Peter Murray, CEO of the PFL. 
"We place a premium on the use of data to tell compelling stories, elevate our fan-viewing experience, and continue to lead innovation within MMA." 
Acronis' solutions are designed based on the five vectors of cyber protection: Safety, Accessibility, Privacy, Authenticity, and Security (SAPAS). One such solution includes the Acronis Cyber Protect, which comes with fast and reliable backup and recovery and AI-powered anti-malware, manageable from a single, comprehensive console.
The company will also equip PFL with brand analytical tools, which utilises AI and Machine Learning capabilities, to help the league measure the value of brand integration for sponsors.
As a result of the partnership Acronis will be able to continue to grow its US and international reach. Moreover, the firm will gain access to a suite of digital and broadcast marketing assets focused on Cagenomics, PFL's real-time fighter data. 
Jan-Jaap Jager, Senior Vice President of Acronis stated: "We are thrilled to partner with the PFL and provide them with the world's most secure cyber protection solutions.
"We believe in the league's vision for re-imagining and growing the sport of MMA, and Acronis' technology is perfectly suited to keep PFL #CyberFit. Data is at the forefront of modern sports, and organisations that place a premium on protecting that data are gaining an advantage over their competition."
Both organisations have strengthened their portfolio of partners following the deal with the PFL adding to its list of sponsors such as ESPN, GEICO, Air Force Reserve, SeatGeek and Rich Energy. Additionally, Acronis has strengthened its place in the sports sector by adding MMA to its repertoire alongside partnerships with Liverpool FC, Williams Racing, and the Boston Red Sox.