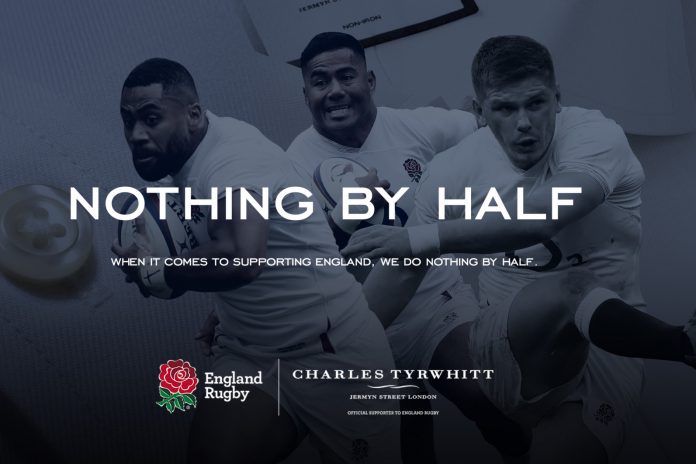 England Rugby has announced a four-year partnership with Charles Tyrwhitt in which the British menswear retailer will tailor an exclusive collection of bespoke formalwear to dress its rugby union teams.

As a result of the partnership, the tailored formalwear will apply to its men's and women's senior squads, the Under 20s/18s teams, team management and RFU staff. Moreover, Charles Tyrwhitt has been named the official formalwear partner of England Rugby as of September 2020.

Simon Massie-Taylor, Chief Commercial and Marketing Officer for England Rugby, stated:  "It's great to share the news that Charles Tyrwhitt will be the official formalwear partner to England Rugby. 
"I have no doubt that with their commitment to use the very best materials to produce attire that is built to last, along with their incredible attention to detail; Charles Tyrwhitt will create an enduring and stylish formalwear range that is a great fit for our players and fans alike, as well as a perfect representation of our shared values."

Throughout the duration of the deal, Charles Tyrwhitt will gain access to exclusive match-day rights and digital content. This is expected to open its customer base to a new audience whilst also creating a stronger relationship with the rugby sector.  
To ensure that all tailor-made suits will be made-to-measure, Charles Tyrwhitt will collaborate with its ''sister'' firm, The White Company, to provide expertise over bespoke formalwear for the women's team.
CT Nick Wheeler, the founder of Charles Tyrwhitt commented: "I played Rugby when I was small and always dreamed of playing for England. Unfortunately I stayed small – not the perfect criteria for prop! That didn't stop me dreaming though and, in my dreams, I have won that first cap countless times.
"The National Anthem, the roar of the crowd, the swallow dive for my first try… Then I started a shirt company.'If you cannot play for them, then at least you can dress them', I told myself. And here we are. Proud as punch, Charles Tyrwhitt are delighted to help make this team not only the best team, but the best dressed team in the world.''
Some of the custom formalwear made for England Rugby include a merino wool suit with a burgundy lining, a Charles Tyrwhitt white twill shirt and an Italian wool silk pocket square emblazoned with the England Rose. 
Additionally, the firm will create casual wear and gifting licensed collections featuring the Rose, as well as a limited-edition heritage line to celebrate the RFU's 150th anniversary in 2021. These pieces will be available for retail at selected stores and on the company's website from November.