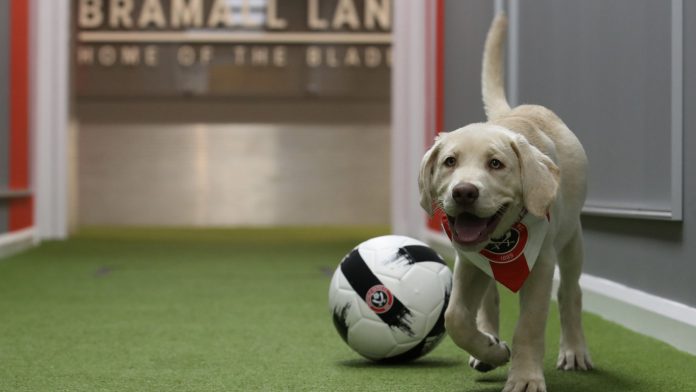 Sheffield United has chosen Support Dogs as one of its nominated charities for the 2020/21 campaign.
The Sheffield-based organisation trains assistance dogs to help adults and children alike with learning and physical disabilities, such as autism or epilepsy.
As part of the partnership, the charity has named a five-month-old puppy Blade, after the Premier League club's moniker. The yellow labrador will begin full-time training when he reaches 14-months-of-age.
Puppy content >

Text 'BLADE £5' to 70085 to donate five pounds to @supportdogsuk. ? pic.twitter.com/WEUbjybE6d

— Sheffield United (@SheffieldUnited) November 11, 2020
Rita Howson, Chief Executive at Support Dogs, announced: "We're absolutely delighted that Sheffield United has made us one of its chosen charities for the season and we hope it will make more people in the city and indeed in the UK aware of our life-changing work.
"Although we're a national charity, we're very much Sheffield-based, and many of our clients live in and around the city. We're looking forward to sharing Blade's progress from a tiny pup to a fully-fledged, professional assistance dog alongside the club and its supporters.
"As his training progresses and his personality begins to shine, we will then have a better idea of which of our programmes he will be best suited for: our programme for children with autism or as a seizure alert dog giving a 100% reliable warning up to an hour before an epileptic seizure or as a life changing disability assistance dog."
She explained how the charity has helped local children to cope with their conditions and overcome adversity.
"One of Support Dogs clients is a young Sheffield boy called Sam," said Howson. "Diagnosed with autism and severe anxiety and depression at the age of five, the youngster had to stop going to school and rarely left the house.
"Support Dogs trained autism assistance dog Willow to look after Sam, enabling him to go back to school and lead a more normal independent life, keeping him safe and providing valuable companionship."
Sheffield United fans will be able to sponsor Blade for £5 a month and help him on his journey to becoming an assistance dog. Sponsors will receive their own cuddly, plush version of Blade and will be provided with updates on his progress.
United supporter Deanna Sampson, a puppy socialiser volunteer for the charity, commented: "Support Dogs are a brilliant charity and I've seen first-hand the difference their amazing dogs make to people's lives. I'm so pleased that the club I love is supporting the charity I love."