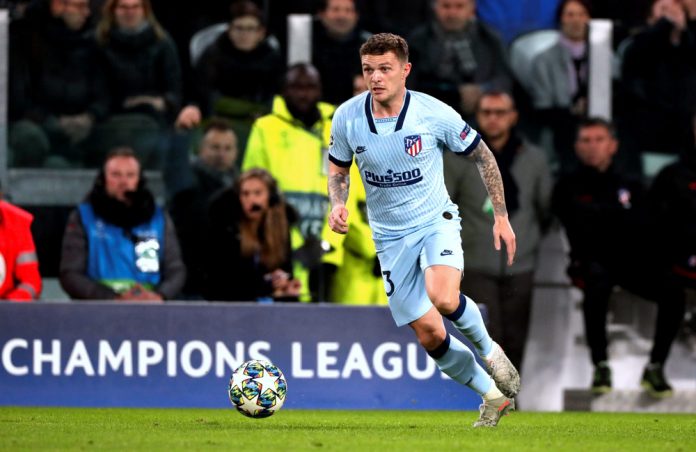 Atlético Madrid and England defender Kieran Tripper's betting ban is due to end on 28 February after an unsuccessful appeal by the Football Association (FA).
Trippier was handed a 10 week match ban by the FA for encouraging friends in a WhatsApp group to 'lump on' bets on his £20 million transfer from Tottenham Hotspur to Atlético Madrid in 2019.
Although the ban was made global by FIFA, Atlético Madrid appealed and the suspension was subsequently paused after just two weeks, allowing Trippier to play in the team's 2-0 win against Sevilla on Tuesday.
Further delays can be expected even if FIFA rejects the appeal, as Atlético will likely take the matter to the international Court of Arbitration for Sport.
The FA's appeal called for the dates of the suspension to be revised whilst FIFA considers whether or not to suspend the sentence globally as well as in Spain, and was launched to the national governing body's own independent regulatory commission.
However, the commission rejected the FA's argument and has stated that Trippier was 'entitled to think these long drawn-out proceedings had been finalised and that as from the end of February 2021 he could begin a new chapter'.
The defender was further described as 'blameless' and the ban was described as potentially 'impeding his prospects of being transferred to an English club during the current transfer window'.
This has cast doubt on a potential move to Manchester United, as Trippier would have to serve the remainder of his ban if he returns to play for an English club.
"We accept that the suspension is probably having a deleterious effect upon [Trippier's] transfer prospects," the FA said.
"There is a very real benefit to football worldwide in resolving as quickly as possible whether it is open to clubs to intervene as [Atlético Madrid] has done in this case in the absence of its player's consent and, indeed, against his wishes when such intervention might be viewed as frustrating the outcome of national disciplinary processes and the ability of FIFA to give effect to those outcomes worldwide."
Despite being unable to play for an English side, Trippier will be free to play against Chelsea at London's Stamford Bridge stadium in a Champions League clash on 17 March.