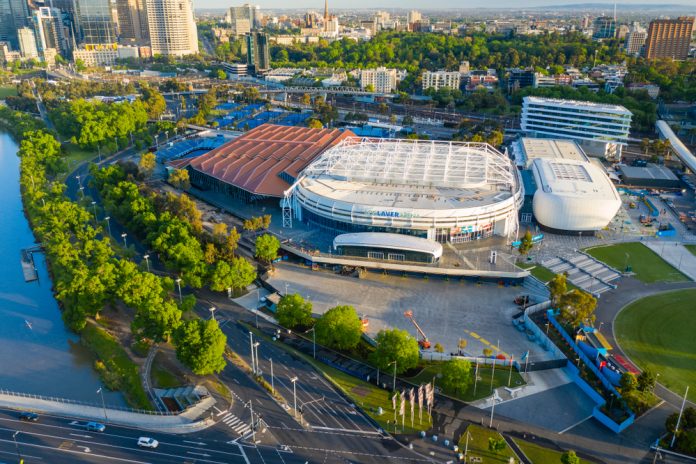 The Australian Open tennis Grand Slam will be staged behind closed doors from Saturday after a five-day lockdown was introduced in Melbourne.
Victorian Premier, Daniel Andrews, confirmed that the tennis tournament would be allowed to go ahead but without spectators, with Melbourne Park classed as a workplace for players rather than an entertainment venue.
The circuit breaker comes into force in Victoria state today at 11.59pm to prevent the spread of the virus to the capital. Residents of the second largest city in the country have been ordered to remain at home and are only permitted to leave for exercise or essential purposes under the terms of a third lockdown.
Ticket holders on those days will be entitled to full refunds according to organisers. However, the tournament's Director, Craig Tilley, told Reuters that ticket holders will still be able to attend today's event despite new lockdown restrictions.
He said: "It's entirely up to our fans to make their choice. They'll be coming to a COVID-safe environment…but they will get a refund if they are not comfortable coming."
From this weekend, players will enter a 'bubble' environment and COVID-19 protocols will be in place for the duration of the lockdown during the tennis competition.
Grand Slam champion Serena Williams added: "It's not ideal. It's been really fun to have the crowd back, especially here. But, you know what, at the end of the day we have to do what's best. Hopefully it will be alright."
The tournament was pushed back by three weeks as a result of the coronavirus crisis and organisers had initially been permitted to sell up to 30,000 tickets per day for the event, which was due to accommodate the biggest sporting crowds since the outbreak of the virus.
Last week, Tennis Australia cancelled the warm-up tournaments ahead of the Grand Slam after a worker at one of the quarantine hotels returned a positive COVID-19 test. Up to 600 players, officials and support staff were forced to isolate and the governing body postponed preparation fixtures.