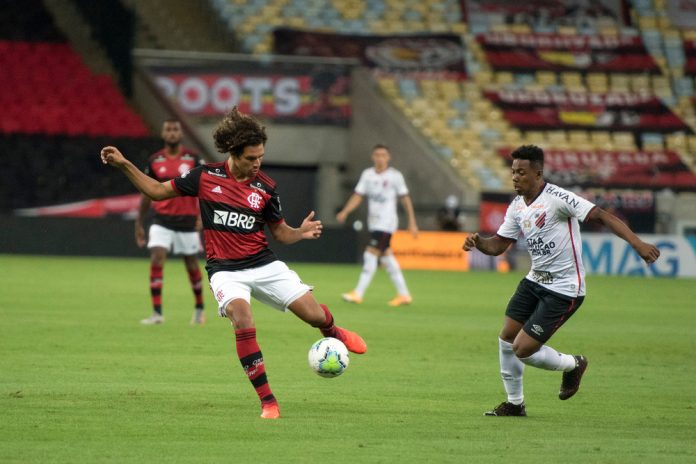 Brazilian football team Club Athletico Paranaense has designated online gambling and entertainment company Betmotion as its new sponsor, becoming the 15th Serie A side to ink a commercial deal with a bookmaker.
As part of the deal, which debuted in Athletico's Brazilian Championship fixture against Grêmio, the betting website's branding will feature on the lower back of the team's jersey for the duration of the 12-month contract.
Betmotion will also gain further exposure on 'Furacão Live' – the club's streaming platform that broadcasts all matches in the Brasileirão tournament, conducting exclusive activations for fans and partners of the club during game broadcasts. In return, Athletico will offer fans exclusive Betmotion offers.
"Athletico welcomes Betmotion, one of the biggest sports betting entertainment sites," remarked Commercial and Institutional Relations Director at Athletico, Mauro Holzmann. "We are proud of this partnership, which we want to be very lasting."
Elsewhere in Brazil, Betmotion maintains a sponsorship agreement with the Novo Basketball Brasil (NBB), Fluminense FC, and an ambassadorship with Brazil women's national star, Cristiane.
In 2020, the betting company also featured in broadcasts via streaming of the Brazilian Women's Championship A1, Italian and German Championships and in Stockcar, on TV Bandeirantes.
"Athletico is a pioneer in many actions and there is nothing better than promoting national sport alongside those who seek to improve football," added Angelo Alberoni, Country Manager at Betmotion. "Both parts have the characteristic of being innovative and I can say that the deal goes far beyond the brand on the shirt. The fan can expect actions in conjunction with activations."