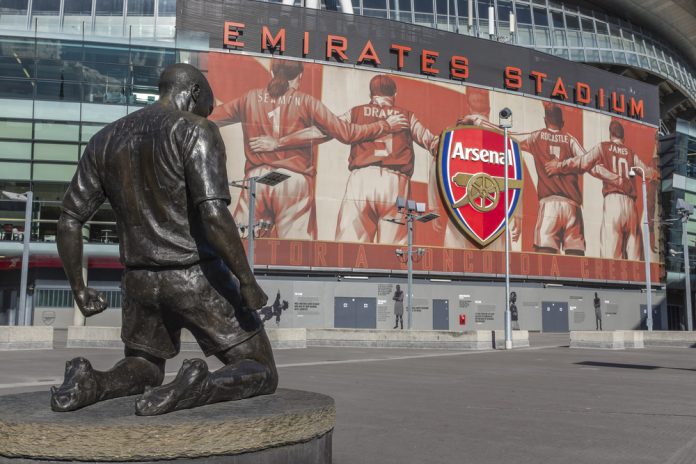 Premier League giant Arsenal has partnered with blockchain providers for the sports and entertainment industry, Chiliz, for the launch of the $AFC Fan Token on the Socios.com application.
Through the collaboration, Arsenal fans will gain engagement opportunities on Socios.com for $AFC Fan Token holders, including the chance to influence the club in a series of interactive polls across a variety of decisions every season.
Fans will also be able to access club-related content and experience Socios.com's geo-location, augmented reality feature 'Token Hunt'.
The $AFC Fan Token will in the near future with all existing and new My Arsenal Rewards Members having the option to receive a free $AFC Fan Token for a limited time.
​​Peter Silverstone, Commercial Director at Arsenal, said: "We are excited to launch this partnership with Socios that will bring our huge global fan base even closer to the club. Socios are leading the way in blockchain in the sports industry, as we have seen from their relationships with other leading European clubs.
"When we launch the $AFC Fan Tokens together we will give our hundreds of millions of fans worldwide more opportunities to interact with the club and be a part of our global family.
"We are committed to finding new and innovative ways for all our supporters – whether local or international – to get closer to the club. In addition to fan focused initiatives such as our groundbreaking My Arsenal Rewards loyalty programme, and the Amazon All or Nothing documentary, the launch of the $AFC Fan Token is another example of our renewed efforts in this space."
In addition, fans can put their skills to the test against other fans from around the world in club-related games, competitions and quizzes, competing in global leaderboards and earning real-life and digital club-related benefits and experiences along the way, seeking to make Socios.com the 'digital meeting place' for the club's worldwide fanbase.
"Every football fan is part of a community. In fact, one of the best things about being a football fan is feeling like you're part of something bigger," remarked Alexandre Dreyfus, CEO of Chiliz and Socios.com.
"Knowing that when you celebrate a goal, thousands, and, in Arsenal's case, millions of Gooners, all around the world, are jumping around celebrating – doing exactly the same thing you're doing. There's a global community of Arsenal fans united by their shared passion for their club.
"Socios.com will become the meeting place for these fans and $AFC Fan Tokens the tools through which they are able to add a new layer to their relationship with the club."