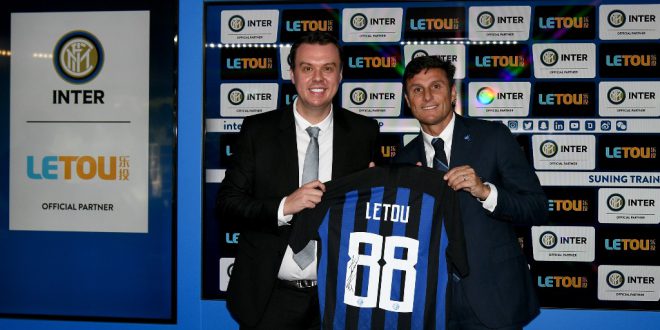 Asian-focused online gambling operator, LeTou, has celebrated a positive and progressive first six months of its partnership with Italian Serie A football team, Internazionale Milan, as revealed by LeTou chief executive Paul Fox.
Philippines-based LeTou strengthened its European football sponsorship portfolio in August last year, securing its biggest sports partnership to date with Nerazzurri.
"Internazionale is steeped in history and renowned as a football giant across the world, but the club is about more than what happens on the pitch every weekend. Few clubs can boast a fanbase as global as Inter's, and we viewed them as the perfect partner to reach new audiences in Asia," Fox detailed to SBC.

"Inter's commitment to having a long-term impact in key Asian regions was a big selling point for us, and there are a lot of synergies between the sports and gaming sectors. To become Inter's first ever Asian Gaming Partner was proof that at LeTou, we are now one of the key players in our industry."
LeTou marketing has placed significant focus upon developing mutually beneficial conditions and prospects which will significantly promote both parties' agendas.
It, therefore, differentiates the Inter-LeTou partnership from other standard sponsorship agreements that have previously dominated the Asian betting market.
Inter Milan has begun developing Chinese football academies, led by the club's owner Suning Retail Group, which LeTou has strongly welcomed. The developments have significantly enhanced LeTou's brand coverage to reach the 97 million-strong Inter Milan Asian fanbase.
Backing LeTou-Inter partnership prospects, Internazionale Sales Director Tal Moriah details:  "Inter has already opened six academies throughout China in Beijing, Shanghai, Sichuan, Jiangsu, Shenyang and Hong Kong, with over 100 football programs across the school system and elite youth team camps and clinics."

"The academies are operated on the highest level, with both certified coaches sent from Milan and local Chinese coaches. Training of local coaches is at the core of the Inter-Academy projects all over the world and in China we have seen great potential growth. Inter will continue to invest resources in the development of football in China.
"The work that Inter has already done in key regions such as China is proof that they are focused on implementing change and contributing to the growth of football in Asia. Providing children with access to quality coaching will help them to understand the game and have an appreciation of how it can be used as a tool for good.
"It is an honour to be working in partnership with such as a successful football club both on and off the pitch, and we look forward to continuing our collaboration with them."