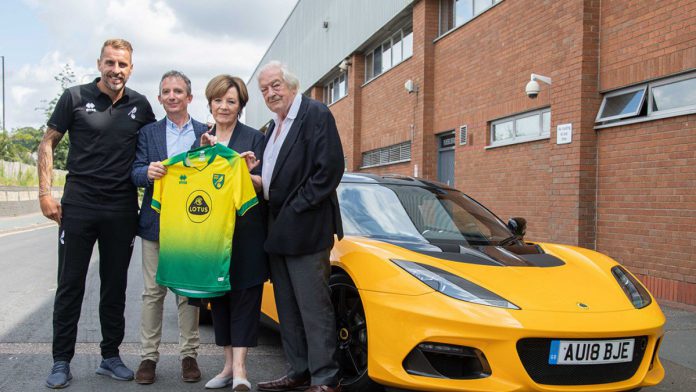 The partnership between Premier League newcomers, Norwich City and Lotus has been extended ahead of the new season.
The new multi-year partnership with Norfolk performance car brand, will allow club to build a state-of-the-art training facility at Colney renamed The Lotus Training Centre, and the all-new Academy building renamed The Lotus Academy.
Simon Clare, Executive Director, Global Marketing, Lotus, commented: "Lotus is a brand born for and out of performance and competition, so this partnership is perfect for both parties. Together Lotus and Norwich City Football Club share core values – commitment, passion, focus, hard work, a winning mindset – and the success that flows from them.
"This partnership joins two iconic Norfolk brands as they accelerate on to the global stage together. Both share a desire for innovation and, as we herald a new era together, we are incredibly excited about playing a part in the development of Norwich City and its talent. Today we are investing in that future."
The partnership comes on the eve of the Canaries' first game of the 2019-20 Premier League season against Liverpool at Anfield. It sees two long-standing Norfolk brands uniting as both embark upon a new and exciting phase on the global stage.
Lotus is embarking on a major global transformation. Last month it unveiled the world's first fully electric British hypercar and most powerful production car, the Evija, which is designed, engineered and produced at Lotus' headquarters in Hethel, Norfolk. The launch of Evija is the first visible step in Lotus' transformation plan that will see the company invest significantly over the next few years to expand its product range to become a global premium performance car brand. Lotus has been making cars at Hethel, to the south of Norwich, since 1966 and currently employs around 1,200 people in the region.
Ben Kensell, Chief Operating Officer at Norwich City, said: "This is a momentous deal for us. We're so thrilled to partner with one of the most iconic and high-profile brands, not just in Norfolk, but across the UK and internationally.
"I'm proud that our resurgent Club is partnering with Lotus at a time when it is relaunching its brand into a new and exciting future. The synergies between our two businesses are striking, and for our Academy players to be proudly wearing a shirt that has such a well-loved logo on is really special."