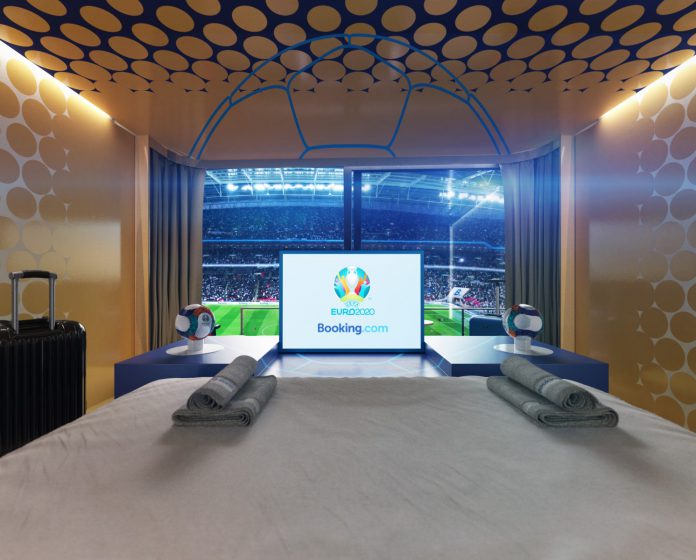 As an official partner of the Euro 2020 competition, Booking.com has enhanced the hospitality experience for a set of British football fans at the final.
The tournament's Official Accommodation and Attractions Booking Partner, is offering fans the chance to win the ultimate overnight football experience at the UEFA EURO 2020 Final in London.
The announcement comes as Booking.com reveals results of a European-wide survey of 7,500 football fans, where 72% of British football fans declare that staying as close to the stadium as possible is a top priority when organising their football inspired travels.
The competition will mean a guest will get to sleep overnight in the Booking.com Stadium Suite, which overlooks Wembley. They will also be able to use the player changing rooms to freshen up before breakfast is served pitchside the next morning. The winners will also be joined by Booking.com ambassador and UEFA Euro 2008 tournament and Golden Boot winner David Villa, who will host them during the Final.
The Spanish footballing legend was in London earlier this week, where he revealed the Stadium Suite design, his contributions to its creation and the role he will play in the winner and their guest's experience: "Wembley is one of the most iconic venues in world football, for players and fans alike, so the chance to stay in the Stadium Suite the night of the Final and experience the electric atmosphere is truly a once in a lifetime opportunity! I look forward to meeting the lucky winners on the 12th July next year."
Arjan Dijk, Senior Vice President and Chief Marketing Officer at Booking.com, added: "With excitement around the UEFA EURO 2020 tournament set to sweep across Europe and beyond, 2020 will definitely be an important year for sport and we understand the importance of helping fans to see their favourite team and players compete on the biggest stage for European football.
"With a mission to make it easier for everyone to experience the world, and with a quarter of European football fans between the ages of 18 and 34 confirming that they only travel to watch their team play, we're excited to have partnered with UEFA to play our part in ensuring that fans have the best experience while travelling to watch this epic tournament. That includes creating the Booking.com Stadium Suite at Wembley Stadium for the UEFA EURO 2020 Final, truly an overnight football experience to rival all others."
Insider Insight: Booking.com is seeking to stand out with relevant and engaging activations ahead of EURO 2020, and this is a fine example of a positive activation. The brand is maximising its partnership with the legendary David Villa and also its hospitality at the tournament in order or to ensure brand exposure is at its peak.