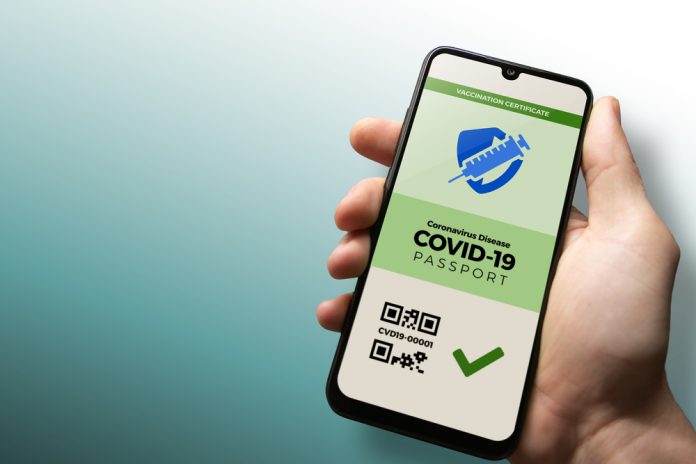 A group of high profile sports authorities have written a letter to the UK's political leaders, describing the possibility of introducing vaccine passports as a 'credible' solution for the return of spectators to venues.
In the letter, seen by the BBC, the sports bodies noted that although they 'see the benefits' of a vaccine passport programme, the solution 'must not be must not be discriminatory, should protect privacy, and have clear exit criteria.'
Additionally, the group stated that: "There are many issues to be addressed including how technology would work and its ease of use at major events, for both the attendees and the organisers."
Signatures to the letter include the Football Association (FA), Premier League, English Football League (EFL), England and Wales Cricket Board (ECB), the Rugby Football Union (RFU), Rugby Football League (RFL), Lawn Tennis Association (LTA), All England Tennis Club at Wimbledon and the Silverstone motor-racing circuit.
Vaccine passports have also been endorsed by EFL Chairman Trevor Birch, who commented: "Without COVID certification, we may not be able to get full fans back in stadiums, which will have a dramatic financial effect."
Under the UK government's current roadmap for the exiting of the country's lockdown, between 4,000 and 10,000 spectators – a capacity limit of 25% – will be able to return to venues from 17 May onwards, with further easing of restrictions to take place on 21 June, whilst the FA Cup Final could fill up to 20,000 seats as a pilot test event.
Additionally, the World Snooker Championships at the Crucible Theatre in Sheffield plans to allow the return of spectators at 33% capacity between 17-21 April, expanding to 55% for the second round matches on 22 April and 75% for the quarter-finals and semi-finals, with the possibility of a full attendance touted for the final.
Meanwhile ,large scale events in Scotland will also resume on 17 May, with the Euro 2020 fixtures at Hampden Park set to host up to 13,000 fans, In Wales a number of cultural and sporting events planned at outdoor venues during the summer, with attendance varying between 200 and 1,000.
It was also revealed this morning that the FA has confirmed to UEFA that Wembley stadium will operate at a capacity of 25% for all England matches during the Euro 2020 Championship – acting as test events – whilst the semi-finals and final will allow up to 45,000 fans, a capacity limit of 50%. 
Although supportive of the UK government's plans and measures regarding the return of spectators, the group of sporting bodies also maintained that the 25% capacity limit 'will be insufficient to end sport's COVID financial crisis'.