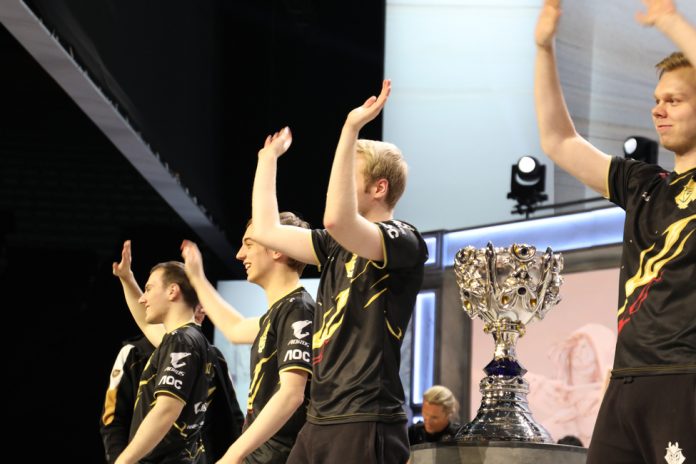 From sponsorships to industry-wide announcements, Insider Sport has you covered when it comes to the world of esports.
This week's edition takes a look at Bilibili's League of Legends deal, SK's partnership with Krombacher, the University of Roehampton launching a Women in Esports scholarship, plus DouYu acquiring ESL and Dreamhack streaming rights.

Bilibili secures Chinese streaming rights to League of Legends World Championships

Riot Games has struck a multi-year partnership with Bilibili in which the streaming video platform will gain exclusive broadcast rights for its major League of Legends events.

This includes the 2020 League of Legends World Championship, which has been moved to take place in China, the Mid-Season Invitational and the All-Star tournaments.

John Needham, Global Head of Esports at Riot Games, commented: "We continuously look to share our sport across platforms with our fans, and Bilibili will help us share the spectacle of LoL Esports to more of our fans in China. Our partnership with Bilibili allows us to stream our broadcasts to new audiences and also unlocks our ability to develop fresh content and storylines around our top professional players as we move into the next decade of LoL Esports."

As part of the deal Bilibili will produce a variety of streaming and on-demand video content around the competitions, whilst the firm will team up with Riot Games, and TJ Sports will co-produce a documentary celebrating the 10 year anniversary of the League of Legends World Championship.

Carly Lee, Vice Chairwoman and COO of Bilibili, added: "We are excited to reach this strategic partnership with Riot Games. Throughout the past decade, we have witnessed the development of the esports industry from a niche market to a mainstream one that is now one of the most popular sports among young people in China."
SK Gaming collaborates with German brewery Krombacher

Highlighting the continued commercial growth of the esports industry, Krombacher and the German brewery's Vitamalz drink has been named the official beverage of SK Gaming.

The partnership will see both companies collaborate on a range of marketing activations which includes creating social media content featuring SK Gaming players and developing a new online video series.

Alexander T. Müller, CEO at SK Gaming, said: "It is no longer a secret that we at SK Gaming are very committed to looking after our players holistically. The entire nutrition area is one of the central topics. With the Krombacher product portfolio, we have succeeded in winning the perfect partner for us. We are extremely happy about the trust that is placed in us here. In addition to our players, who of course primarily benefit, we will ensure that the community can get to know Krombacher and its brands extensively."

Additionally, the Krombacher and Vitamalz logo will be prominent across the organisation's broadcasts and events, with the entities also teaming up to produce a mobile esports tournament.

Uwe Riehs, Chief Marketing Officer at Krombacher, commented: "For us, SK Gaming is the ideal partner for our involvement in esports. It is a strong brand and a team with a high level of quality and professionalism – a requirement that we set for ourselves. We are convinced that we can use each other's synergies, reach new target groups and, in particular, offer added value to the community with exciting content."
DouYu acquires exclusive rights to ESL and Dreamhack events
ESL and Dreamhack have strengthened its broadcast output by securing a one-year  Mandarin-language exclusive partnership with Chinese streaming service DouYu.

As a result of the deal, The ESL Pro Tour for Starcraft II and Warcraft III will be exclusively streamed on DouYu in China. 
Frank Uddo, Senior Vice President Global Media at ESL, emphasised: "Here at ESL we are always looking for opportunities to extend our distribution portfolio to reach as many people as possible. DouYu is a premier streaming platform and this deal, for the StarCraft II and WarCraft 3 ESL Pro Tours, marks a significant step in our ambitions to provide the best viewing experience for Chinese-speaking fans all around the world."
Cheng Chao, COO at DouYu, added: "Our partnership with ESL and DreamHack strengthens our hold as a premium live-streaming platform in China. ESL and DreamHack have served esports fans globally for many years, providing fans with the best gaming experience and fostering an esports community like no other."

The companies, which are owned by Modern Times Group (MTG), have continued to strengthen its commerciality by signing exclusive rights to streaming platforms worldwide. Last month, Twitch gained the streaming rights to exclusively broadcast ESL and DreamHack events in English highlighting a shift in how esports competitions are starting to become saleable broadcasts.

University of Roehampton launches 'Women in Esports' scholarship

In a bid to broaden the opportunities for women in the competitive gaming sector, The University of Roehampton in London has revealed it will offer a 'Women in Esports' scholarship, starting in September this year.

The initiative will see the institution offer four scholarships to first year students, worth up to £1,500, whilst providing women with a number of opportunities to fast-track their careers in esports.

Professor Anna Gough-Yates, Provost, University of Roehampton, said: "We are proud to be engaged and at the forefront of developing talent for an exciting and emerging industry like esports. Diversity and inclusion are values held to the highest regard at the University of Roehampton and the scholarship is another example of how we implement this into the experience of students and the extra-curricular activities available to them."

In a bid to enhance the female esport scene the university will also collaborate with Women in Games to host weekly women-only esports sessions available to students. Moreover the initiative will create further networking opportunities.